07 August 2018
|
Cardboard coal office
We show you the perfect beginner project: how to model a cardboard coal office.
This is the perfect starter project for anyone who fancies having a go at scratch-building their own buildings. Even in 7mm scale, a coal office is not very big, so little in the way of materials is required and the job shouldn't take too long. Since the real building would have weathered a bit over time, this will only add character.
Taking inspiration from John Ahern's 1950 book 'Miniature Building Construction', cardboard has been used as much as possible. While not a fashionable material, card is easy to work with and very cheap. Buying a sheet of Daler board will set you back around six pounds, and there's enough material for dozens of little huts or even a couple of OO warehouses.
If this is too rich, cereal packets are worth a look. The card is surprisingly high quality, although a bit thin, so more bracing will be needed, but most people will have regular, free supplies to hand.
Of course, once you've made your first few buildings this way, the world is your oyster. Bigger models just need more cardboard. Who said railway modelling was expensive?
What you'll need
Content continues after advertisements
Daler Board – A 2mm thick cardboard available from art shops in A0 size sheets. Picture framers use it too and will often sell offcuts big enough for our purposes.
Bristol Board – Smooth, white card sold for illustration and watercolour work in A4 pads. Basically, a very high quality card that cuts cleanly with a sharp knife. Found in art shops and online.
Slater's PlastiKard – A proprietary plastic product normally sold in A4 sheets by model shops and traders. Cuts cleanly and can be stuck with liquid glue such as the firm's Mek-Pak.
Sharp knife
Steel rule
Engineers square
Sharp scriber
Blunt scribing tool (an old ballpoint pen will work)
Expert Tip: Try to print the plan out the size you intended to build the model. It's much easier to transfer dimensions to parts if you can read them off with a rule. It's certainly easier than trying to work out how long 4 3/16" is when you grew up in a metric system!
1
Mark out the shell of the building on 2mm thick Daler board, trying to arrange the sides so you don't have to measure up each one individually. The pencil lines indicate the tops of the weatherboard planks and are 4mm apart. It's easier to add details to the sides on an assembled shell as you can put the corner pieces in first. Note the offcuts fixed inside to the corners as bracing.
2
Planking begins. Each one is 5mm tall and cut from Bristol board. Smearing UHU on the side allows for three or four planks to be fitted at a time. Each overlaps the one below by 1mm.
3
For the vertical planked sections and door, scribe the planks into the face of some Bristol board. You can make up these parts from separate planks, but it's harder to get neat joins.
4
Windows are thick plastic. Pre-paint sticky labels and then fix them to the plastic. Next, the middles are cut out with a sharp knife (any cuts in the plastic face are invisible being right next to the bars) and are carefully peeled away. Extra depth can be achieved with layers of label and it's a lot easier than painting and trying to keep the "glass" clean.
5
On the door glazing are the words "Order Office", so scratch this into the plastic with a metal scriber using the Skinley plan as a guide.
6
Colour in the sides with a marker pen. When you look through the windows, the darkness will hide this.
7
According to the plan, the roof is asbestos. We are pretty sure that Slaters PlastiKard became available in the late 1950s, and no less a person than Dave Rowe recommends it in his book 'Architectural Modelling in 4mm scale', so the corrugated version is used. The ridge is formed of a plastic tube covered with squares of kitchen foil fixed with UHU.
8
To give the asbestos some texture, it is painted with Humbrol 121, pale matt stone, and then sprinkled with talcum powder. Once dry, the excess is brushed away and the surface coated with a brown wash for added colour.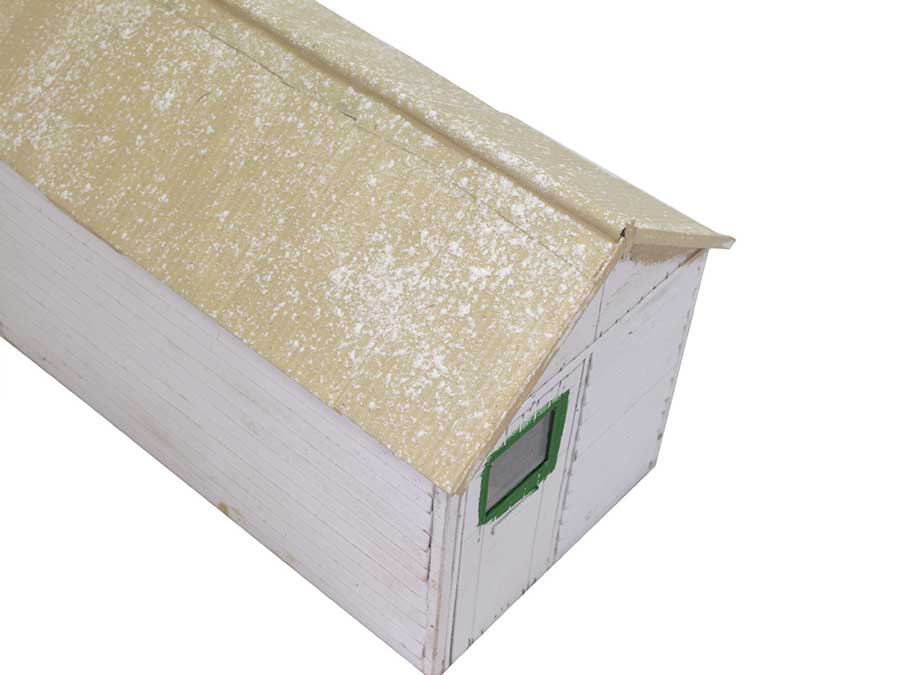 9
Brick supports start life as square balsa wood that is stuck to embossed PlastiKard. As each side dries, scribe along the edge so the plastic can be bent around the corner. Eventually the wood is covered, making a square brick stick.
10
After painting, the individual pillars are cut off with a fine saw. Make sure you use a strong glue. Sticking them back in place is fiddly, but not difficult and you can't see the joins.
11
Much more traditionally, the blackboard beside the door is lettered using white ink and a mapping pen.
12
Here's the finished building, painted and weathered. Make the sign on a computer and printed the results on glossy photo paper.
Expert Tip
Not every project goes right the first time. What you see here is a second attempt at this model. The first one didn't seem to be working out properly, so it ended up in the bin. This is an important aspect of scratch-building – don't keep any pieces you aren't happy with. Make the part again, and you won't regret it in the long run. Eventually, the practice means that your bin fills up more slowly.
Want to read more step-by-step kit building articles? Of course you do, just click here.
Content continues after advertisement