05 January 2021
|
Hornby seeks younger audience with new entry-level trainset designed for children aged 3 to 6.
Hornby's new Playtrains range is a remote-controlled battery-powered trainset, suitable for 3-to-6-year olds. Joining the manufacturer's 2021 product range will be different locomotives with sounds, working lights and three forward and reverse speeds. Train sets, train packs and expansion packs are also to be made available.
Playful fonts, exciting colours and vibrant artwork combine on the packaging which shout 'fun' from the shelves of stores.
For decades, model railway manufacturers have sought to inspire children (through their parents) with the magic of train set ownership. Train sets come in many shapes and sizes. We've seen it all – from simple loops of track to animated trains which interact with trackside objects. Some are moulded in vibrant colours of plastic, others made from plain wood.
Hornby is an established British brand which has a long-standing relationship with the junior train set. In fact, Hornby and train set are almost synonymous. For decades it has manufactured train sets, bringing joy to many a child's birthday or Christmas. So how is this new system any different?
The standard basic train set is designed to be just that – you'll get a circle of track, a locomotive and rolling stock (that's coaches, wagons or both) and a controller at an entry-level price. It's enough to get started with a small setup – the train can stop, speed up, slow down or travel in reverse. Wagons or coaches can couple up, too... yay!
The more robust electric train sets which move under their own power are designed for children aged three up, however, they often require adult intervention if the train comes off the track. Add to that the routine cleaning of the metal track for electricity to reach the wheels properly, maintenance of the locomotive whose gears are likely to fill with dust and fluff if operating on carpet, and you can see why a battery-powered system is a more-robust option. Hornby's Playtrains train set offers just that, with the benefit of multiple sounds and working lights, all controlled by remote for reliable operation.
What's inside?
Hornby's Playtrains range starts with a train set. 'Flash' the local express (R9332) contains a three-car express train which has working lights, sounds and three forward and reverse speeds. Inside, four straight lengths of track and eight curved lengths are designed to easily clip together to form an oval of track. It's easier for smaller hands to handle – the plastic track doesn't have metal rails with sharp ends, the trains don't have sharp angles or parts which are susceptible to fall off if handled incorrectly, which they will be at some point!
Battery control has an advantage too – no track cleaning means reliable operation every time. All you need are four AA batteries for the trains and two AAA batteries for the remote control.
Expansion packs
Everything you need to get started is included with the Hornby Playtrains Train set, but if you want to increase the amount of track or add more trains to it, that's also possible. The Playtrains system can be expanded with a number of packs. Train packs each provide an additional locomotive, rolling stock and controller, while track packs – of which there are currently four – allow for more complex track setups. The manufacturer explained that it intends for the Playtrains system to remain in the Hornby range for many years to come – a relief for parents who might want to expand in the future or receive after-market support, spares or repairs.
Hornby Playtrains (R9312) Bolt Express Goods.
Content continues after advertisements
Hornby Playtrains (R9315) Local Express Coach Pack.
Hornby Playtrains (R9316) Express Goods Closed Van Pack.
Operation
A maximum of two trains can be used with Playtrains at any one time – these are paired with each controller via a switch to the underside (A or B) which allow them to operate with controller A or B. Rolling stock couples together or pulls apart with magnets for reliable operation, too. It's all kept very simple.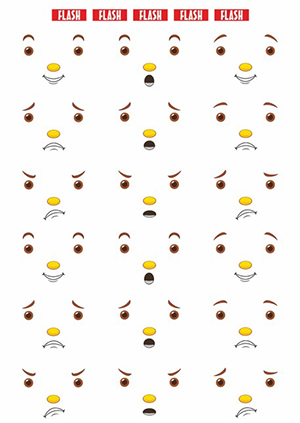 Which child doesn't like a train with a face? Inside trainsets and train packs are stickers, allowing children to make characters out of their trains. A number of stories are to be made available via the Hornby website for extra play value, too.
Better than the rest?
There are several train set options available for parents at any given time – some from long-established brands, others imported which only last for a year or so. The most basic of these will be unpowered and offer little interaction, while others with a wired controller, metal rails and tension-lock couplings are more suited to children with more dextrous hands. Hornby's new Playtrains range hits the sweet spot. It's robust, yet offers extra features.
Designed to be assembled and taken apart easily, track is a push and pull apart setup.
But, dig a little deeper into your 'trainsets for children' research and you might ask how Playtrains differs from Märklin's My World. A range which also has plastic track, a battery-powered train of similar size, with lights, sounds, magnets for couplings, and is also suitable for ages three and above – sounds familiar, right?
Hornby's system isn't based on Märklin underpinnings though, it's entirely new. In fact, the only thing the two systems share is the distance between the two tracks – they're both loosely OO (or HO) gauge. That means that these trains – in theory – could run on a OO gauge model railway whose tracks are spaced at 16.5mm apart (until they reach a point, bridge, tunnel, platform, or other lineside object which they might hit because of their larger bodies, that is!). Hornby's track is easier to clip together than that offered by Märklin, and despite the latter set having batteries included, the Playtrains starter set is more keenly-priced, by some margin.
Future Hornby collectors?
Playtrains is set to replace Hornby's Junior range, whose global sales between its Paddington and Express Train variants have totalled more than 40,000 units – it's a lucrative market. Not only is the new range promising more features and the possibility to expand, which its previous offering couldn't, it's also introducing the Hornby brand to a younger audience – its potential future client base. With a range promising much more fun than previous generations of train sets, that's surely a positive move.
What do you think of the new announcement? Head over to our forum, RMweb.co.uk and join in the conversation.
Read the highlights from Hornby's 2020 newly-tooled locomotive range.