04 September 2019
|
One of British Rail's most-enduring creations, the 'F' variant of these coaches is the subject of choice for Hornby's creations. But how do they fair? Howard Smith investigates...
The Mk. 2 coaches have been one of British Rail's most enduring creations. From their introduction in 1964, they evolved over their production lifecycle to include new manufacturing methods, better seating arrangements, interior styling and air-conditioning. Each design change saw the Mk. 2 attributed a letter suffix in chronological order, culminating in the build of the ultimate design, the Mk. 2F, built between 1973 and 1975 at British Rail Engineering Limited's Derby Works.
Key changes over previous designs for Mk. 2F coaches saw interior panelling made of plastic, with a new style of seating in most of the coaches. Air-conditioning with lower bodyside heaters was provided, in similar vein to those featured on the prototype Mk. 3 coaches being trialled. Many survived in service until the mid-1990s, when they were displaced by more modern DMU and EMU rolling stock, though a number are still operated today by charter or rail tour operators, Abellio's Greater Anglia and ScotRail franchises, Transport for Wales and Network Rail.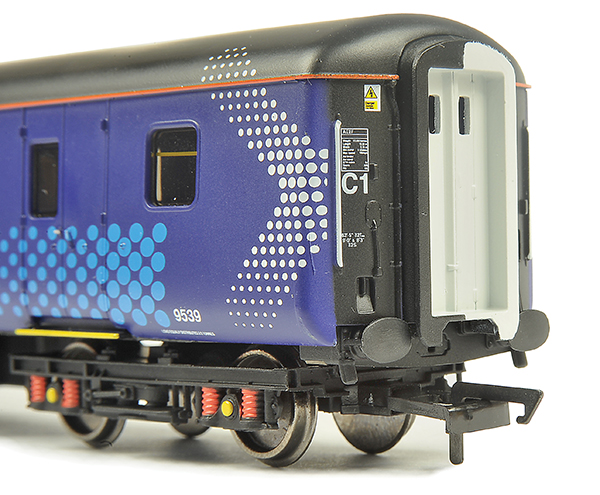 Head-to-head

Hornby has released its first models of the new Mk. 2F tooling and we were afforded the chance to see samples of its Second Open (R4893A) and Brake Second Open (R4892) in ScotRail livery. Also announced by Bachmann as part of its 2019 range in Virgin Trains and Abellio ScotRail Saltire livery, these new Mk. 2 vehicles are an indication of Hornby's continued determination to succeed in the model railway market, releasing them ahead of Bachmann and with a non-negligible £25 RRP per coach saving.
Content continues after advertisements
In service

Used by Abellio ScotRail on peak hour services around the Fife Circle Line to link the towns of South Fife and coastal towns along the Firth of Forth to Edinburgh, two sets of six Riviera Trains Mk. 2 coaches hauled by a Class 68 see use in this distinctively-patriotic livery. Hornby's depicted vehicles are Mk. 2F SO (R4893A) No. 6177 and BSO (R4892) No. 9539, ideal for pairing with Dapol's new Class 68. A third coach, Mk. 2 SO (R4893) No. 5976 is also available.
Underframe detail isn't elusive and packs sufficient punch through use of clever tooling. Note the seating and compartment separators through the tinted glazing.
Closer Look

There's no denying that these coaches conform completely to the round bulbous shape of the Mk. 2 design. Scaling out at 3ft 1in diameter, the wheels are of the correct size, though their tops are visible more than they should be, highlighting the lack of depth to the bogie frames, making it prone to flex. Underframe detail is present, though integrally-moulded with the chassis as a single component, a cost-saving exercise no doubt, though one that's equally advantageous. The coach is far less fragile with components remaining firmly in-situ, regardless of handling. The same details are square and true, too – not always the case with components that must be fitted individually on a production line. Detail hasn't been overly compromised on the underframe, either – the battery boxes and air-conditioning fan grille demonstrate fabulous observational skill, the latter featuring a separate die-cast metal grille which very closely emulates that of the prototype.
The body of the model is a one-piece moulding. The end handrails shown to be separate on previous CAD illustrations are now integral, as with its door grab rails and handles. Even at close quarters, you can't tell the difference and I feel it was a sensible design revision. Door lights are flush, applied using tampo-printing techniques. Perhaps they would have been better as separately-applied raised items, or simply items with relief. That said, from distances greater than a few feet – the typical viewing distance – they have appeal and aren't so obvious.
The tinted-windows offer a glimpse into the coach interiors. Seating with armrests and grab handles is depicted either side of tables, an interior compartment separator being correctly featured mid-way inside the interior of the TSO. Yellow window bars are printed on the rear of the glazing, horizontally or vertically, as required, though a few of the horizontal bars weren't quite level on our sample of the BSO.
The livery of these coaches is neat, in-keeping with the standards we've come to expect. Only the smallest of silver overspray was noted on one edge of the doors on the sample of the BSO, though visible only under close scrutiny. The livery is complex, though presumably assisted by the sharing of artwork from the train operating company. The step edges are painted yellow, though their tops should be yellow, too. Painting these to match shouldn't take long, if you feel the need.
Given the widespread use of the Mk. 2F throughout the UK, and their approaching 50 years of service, it's an essential model that will find use on numerous post-1973-era layouts. This pairing in ScotRail livery is sure to please modellers of the Fife region, though for modellers of earlier periods, its models in BR blue/grey or InterCity should appeal. Equally worthy of mention is its Mk. 2F Radio Survey Test Train Coach 977977 (R4901) and Plain Line Pattern Recognition Vehicle 72631 (R4928), both in Network Rail Yellow and an ideal pairing for its Class 31 in the same livery. A highly-anticipated range of models at an accessible price point that doesn't disappoint. Recommended.