02 September 2021
|
Impressive is the most suitable adjective for Accurascale's latest wagon, as Andy York explains…
Impressive is certainly the most apt adjective for Accurascale's latest wagon! Announced back at Warley Show in 2019, the KUA nuclear flask carriers, after several revisions, are now arriving with customers who pre-ordered and stock is still available from Accurascale and its stockists. The price of the twin-pack might seem high, but you won't look at it that way once you've got a pair of this limited production run. It's not often that an entire fleet of wagons can be accommodated in a single box.
These impressive wagons were built by Bombardier/Prorail of Wakefield in 1998 and were designed to carry spent nuclear fuel from Royal Navy nuclear submarines from their bases at Devonport and Rosyth to Sellafield for disposal, and typically ran with double-headed Class 37/6 locomotives. As well as these bases, the two KUA wagons have travelled extensively across the UK network, reaching Georgemas Junction at the top of Scotland for Dounreay, to Washwood Heath and Wembley Yard as well as Eastleigh for maintenance, so a bit of geographical licence is permissible.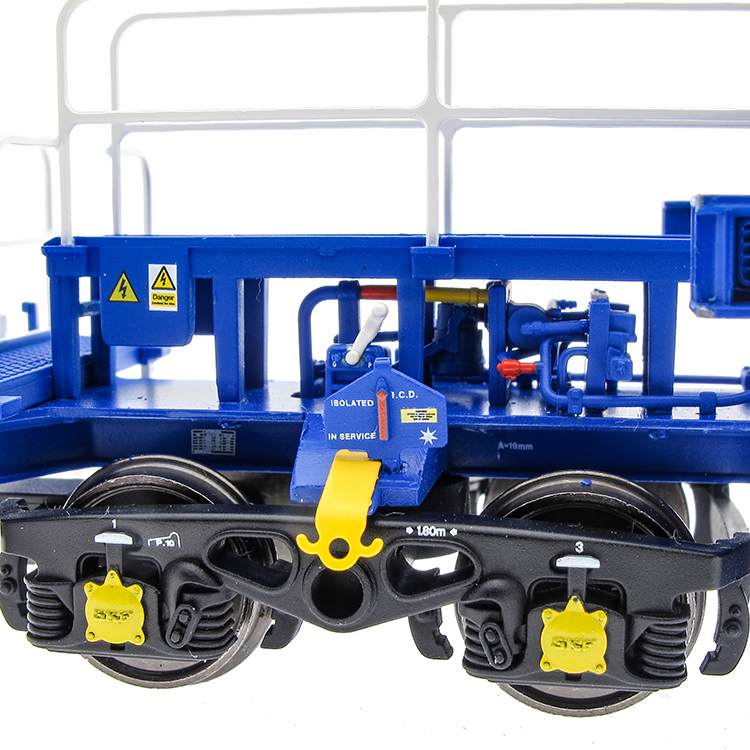 When loaded, the KUAs are always accompanied by DRS courier coaches of adapted Mk. 2 BSO origin carrying elite protection teams – often Royal Marines or similarly-trained Army units – and trains are frequently double-headed to allow for the failure of a locomotive. Pre-2006, the accompanying vehicles were Mk. 1 QXA Inspection Saloons in EWS maroon/gold or Regional Railways liveries. The wagons may be seen singly between the courier coaches or with both flask carriers, MODA95770 and MODA95771, in the same train. The Royal Navy still has numerous retired but fully fuelled nuclear submarines in southern England and Scotland and these wagons are expected to see use for years to come.
The immediate impression is of solidity with each wagon weighing in at 422g, roughly comparable to a large diesel model. The main chassis framework is cast metal with superstructure and etched detail elements and moulded plastic. Buffer to buffer, each wagon measures 325mm. The handrails and detail all feel sufficiently robust considering the finesse. On the real wagon, the silver superstructure hoods slide open for crane access for loading/unloading, but on the model, these are fixed. None of us outside those tasked with handling the materials would know what the innards look like. There's plenty of detail there though with the louvres, grab rails and locking bars. Above the outer bogie at each end of the wagon is a wealth of equipment detail tucked beneath the walkway, maintaining a clear view through the bogies and the blackened wheelsets. Sprung buffers are a feature of the model and, if suitable couplings are used, there's sufficient weight to give realistic compression.
Content continues after advertisements
Decoration of the model is straightforward in terms of livery but, as expected, there are a number of health and safety notices in addition to vehicle information, but there's not a hint of warning notices for the nature of the hazardous materials conveyed!
As with all Accurascale wagons, provision has been made for replacing the wheelsets with those suitable for EM or P4 track. It would be sensible to have a re-railer to hand when you set the wagons up on the track with their eight axles. Each end of the wagon has a pair of bogies and this sub-assembly is pivoted on the end of the main chassis frame and thus has no problem in negotiating the tightest of curves and pointwork in practice. Despite the length of the wagons, there is no excessive overhang when rounding curves, certainly no more than a Mk. 3 coach, for example.
The most apt locomotive to haul these 'beasts' around a layout are Accurascale's forthcoming DRS Class 37/6 locomotives, but these wagons are also often seen hauled by Direct Rail Services-owned Class 66s. I'm sure many 21st century modellers will jump at the chance of these distinctive models and, hopefully, pluck up the courage to give them a suitable weathering job for their layouts.