07 October 2021
|
Ellis Clarke Trains updates on its exclusive in-house model, adding new liveries, the option of DCC sound, and a trailer to its line-up.
Ellis Clarke Trains has shared photographs of its first engineering prototype for the forthcoming Wickham Trolley for O gauge. At the same time, it has revealed a new compatible trailer, often seen behind the small permanent way personnel carriers, while new liveries are also announced for the model, delivery of which is expected early 2022.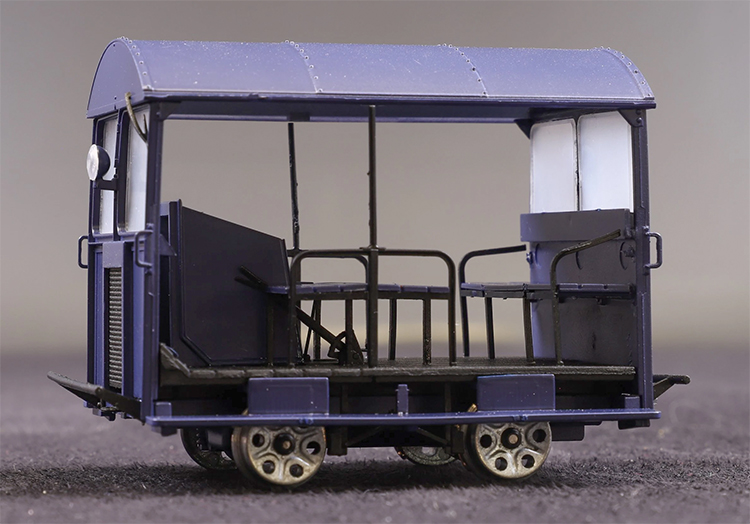 Commenting on the photographs, Ellis Clarke said, "We have some alterations and improvements to make, so these aren't quite perfect, but we're incredibly impressed by them! Having spent further hours researching and visiting Wickhams in preservation, we have decided to add some new limited edition liveries to our Wickham line-up!"
The additional liveries are as follows:
(E1020Z) Chocolate and cream, as preserved at Didcot Railway Centre
(E1021Z) BR maroon with white roof 'B40W', as preserved at The Somerset & Dorset Railway
(E1022Z) Black with wasp stripes, as preserved at Mangapps
Another announcement for the project is the addition of a Wickham flatbed trailer. Finished in black with wooden planking, it can be added to any Wickham trolley or trailer by its hook couplings, or placed in a railway siding. These were often used with Wickhams for transporting machinery and tools.
First enginnering prototype of Wickham Trailer for O gauge by the manufacturer.
Note brake and coupling detail, with authentic-looking scale wheels.
Content continues after advertisements
Alongside adding three new liveries, Ellis Clarke has added un-numbered versions of the BR maroon, SR green, BR yellow and engineer's yellow variants. Un-numbered Wickhams are to be supplied with a transfer sheet, including both preset, and a selection of individual numbers for modellers to apply.
In addition, sound variants are to be made available, too. Commenting on this, Ellis Clarke added, "Many were asking, and many more thought it wouldn't be possible, but we've done it! We're now happy to announce that all our Wickhams can be purchased with DCC sound, fitted with a Zimo chip and a sugar cube speaker, located in the engine bay.
For further details including current pricing and availability, visit the Ellis Clarke Trains website.
Read more Wickham Trolley modelling ideas on World of Railways...
Build an N gauge Wickham Trolley
VIDEO: Build a model Wickham Trolley
Detail a Bachmann Wickham Trolley