22 June 2020
|
The time has lapsed for round four of the BRM See it/Make it competition. We've seen a diverse selection of entries, but there can only be one winner...
The theme for round four of the BRM See it/Make it Challenge was brick steps. Congratulations are in order for Jerry Clifford, winner of this round who takes home a Bachmann Class E4 (35-075) No. 579 in LB&SCR umber, worth £109.95:
One of Bachmann's Class E4 (35-075) No. 579 in LB&SCR umber, is heading to you, Jerry Clifford.
Jerry's entry to the competition was from his layout 'Foxcote Colliery', in 2mm finescale, with a brick starircase and another in stone. "The brick ones are based on a set at Camerton pit in Somerset, and the stone ones from Upper Conygre. Both are rendered in Plastikard...
A cruel close-up for 2mm:1ft scale there, Jerry, but the brick steps stand scrutiny very well.
A similar flight of stairs, this time depicting stone-built ones by Jerry Clifford, from his layout 'Foxcote Colliery'.
Closely following Jerry was Andrew Howard, with his card and paper build using a new boxfile diorama kit from Scalescenes. Bricks are pre-weathered and we feel he's made a great effort with the crisp edges and fold lines.
The fit of the bottom step and retaining wall was a small niggle we spotted in an otherwise very well-constructed scene. Great work Andrew!
John New said he found the challenge very interesting, and it has allowed him to complete a key layout milestone, with several lessons learnt. "It's a reminder of techniques I need to revisit as my skills have got very rusty", he said. Don't worry John, we all start out somewhere and can always improve our modelling techniques.
Content continues after advertisements
John started by editing photographs of the real building to make his model, though ran out of time to complete the challenge.
Returnee, Stuart Hilton made a come-back with his interpretation of the weathered brick-built stairway at Trelissick Garden, near Truro. Using embossed plastic sheet and foam, unfortunately, he too ran out of time!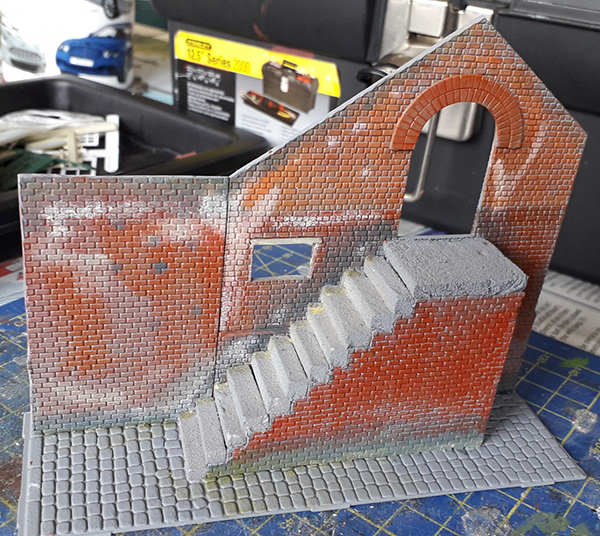 The step sizes are very convincing, Stuart. We think a little more weathering to harmonise the colours and a spray of matt varnish will make it look even better.
RMweb member 'SHMD' posted these photographs of his build which used a high-speed router to cut the components he'd designed in CAD software. The results are truly impressive, though sadly, he ran out of time. We'd still like to see the finished article, Kevin!
To see more from those whom took part in the challenge, visit the thread on RMweb. Stay tuned, too – a new challenge awaits to test your modelling skills, and you could be the winner of a great model. Best of luck!