World of Railways Virtual Exhibition
Make sure you clear your diary next weekend as World of Railways is hosting its first ever Virtual Exhibition.
Prepare to be entertained, as we put on a show like no other. Expect over 15 layouts, new product announcements, exclusive videos, loads of interviews with key industry people, demonstrations from top modellers, plus much more! It's an event not to be missed and it's completely FREE!
What is it?
As many have noticed, sadly, our Ally Pally show had to be cancelled this year, so to help fill some of the exhibition void, the BRM team has been working tirelessly to bring you an action-packed weekend.
There have been many variations of a 'virtual exhibition' over the past few months, but we have attempted to mirror some of those key exhibition experiences that we all know and love as much as possible.
Some of the layouts would never go to a real show, so it's a chance to visit some at home, plus all the layouts will be available to watch and read about when the show 'opens' its doors.
There will be a live feed as we progress through the two days and new content will be going live at least every 15 minutes! Highlights include layout tour videos, interviews with modellers and the trade, practical videos, plus news updates from manufacturers, including two new OO loco projects!
And that's not all. We're also planning to give away some fantastic prizes across the weekend, too!
When is it?
Free of charge and open to visitors globally, from 09:30-17:00 Saturday and 10:00-16:00 GMT Sunday, the website will be transformed into a virtual model railway exhibition hub for one weekend only, and everyone is invited.
They'll be new content going live every 15 minutes throughout the weekend (kicking off at 10am), so you'll need to keep coming back if you want to keep up-to-date with all the news, demonstrations and latest competitions.
Why should I care?
With social distancing restrictions still in place in the UK, this format will provide everyone with fair access to a selection of curated model and prototype railway content. Expect a varied selection of top-quality model railway and prototype content to celebrate all that is great about model railways and their prototype counterparts!
What do you need to do now?
To keep up-to-date with the latest news from the show and get the action-packed itinerary ahead of the weekend, make sure you sign up to get our newsletter here.
You can also keep up-to-date via our social channels by clicking below and then liking our pages below. Make sure you use the hashtag #BigWORshow
And then at 9:30am on July 4, make sure you head to www.world-of-railways.co.uk, grab a cup of tea, and be prepared to be offered up hours upon hours of new and exclusive content purely for your entertainment, plus you'll be able to browse a selection of our favourite layouts at your own pace, very much like you would at an exhibition.
Latest News
Layout list confirmed!
These are just the layouts that will be featured; there's much, much more to come. Even within that area there's over 3 hours of video to keep you entertained!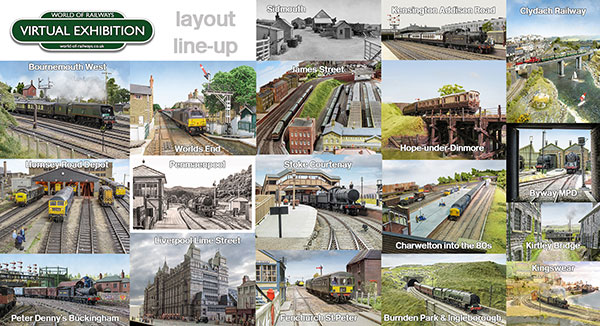 Weekend line-up announced!!
We've unveiled key participants at our virtual model railway exhibition this weekend, see below headline content! Remember, they'll be plenty more than the below, expect something new to appear every 15 minutes!
Saturday
We go behind the scenes at Locomotion Museum
Footplate Models gives us an update on their exclusive OO gauge Salmon wagon project
Recreate Etwall platform shelter with Howard Leader
Phil Parker starts his layout build, with baseboard construction, laying track, fitting point motors, wiring and ballasting.
We chat to Tim Dunn, presenter of The Architecture the Railways Built
Go to the US with expert modeller, Graham Nicholas
Take a tour of Traction magazine Editor, Stephen Rabone's layout
KR Models makes an exclusive announcement
Dave Skertchly gives us a tour of The Vale of Weedol
We speak to Bachmann about its latest model developments
Get practical advice from expert modeller, Jamie Warne
We pay a visit to Market Deeping to see 'Woodcroft' rebuilt
The MRC chats to Simon Kohler
We take a look at some pictures and videos of real trains in action from steam and diesel eras
Paul Appleton, from the Hornby Collectors Club, speaks to Howard Smith
Take a tour of a new layout from Laurie Calvert
We talk all things 'tech' with DCC Concepts
Sunday
We speak to Pendon Museum as they emerge from lockdown
Clive Baker gives us a tour of his layout, Little Burton
The second part of Phil Parker's layout build, with practical videos on creating a quayside wall, modelling water, build a Wills Halt kit, scratch-build a goods shed, and more
Laurie Calvert gives us a tour of his second new layout creation
We take a look at some pictures and videos of real trains in action from steam and diesel eras
The MRC speaks to Carol Flavin of The Loco Ladies from Channel 5's The Great Model Railway Challenge
We take a tour of Team Grantham's completed final layout from The Great Model Railway Challenge
Jamie Warne provides us with some expert construction advice
Phil and Andy roam around Highley station on the Severn Valley Railway
The MRC chats to Dapol about life in lockdown
Howard Smith talks to John Gymer of Youchoos
Tony Wright offers up some practical advice when building locomotives
We interview model railway YouTuber Jenny Kirk
Andy York provides us with some top photography tips
Giles Favell talks us through a Radio Controlled Bedford TK conversion in 4mm scale