The london festival of railway modelling demos talks more
---
---
All this happened at the 2019 event
The BRM Stand
The BRM Stand is where we'll be bringing Britain's fastest-growing model railway magazine to life! It's the place to find the BRM team, together with regular magazine contributors to get one-to-one modelling advice and take advantage of the magazine's great show subscription offer or buy the latest copy of the magazine.
FREE prize draw for pre-booked children tickets!
We are excited to announce that we are working with LCUT Creative to enter all children with pre-booked tickets into a FREE prize draw for the chance to win a Railway station kit.
Demonstrations (To be confirmed)
Visit the demonstration areas for the opportunity to learn new techniques or ask any questions you might have.
MRC Demonstrations - Some of our more experienced modellers are demonstrating a variety of techniques – including different ways to produce buildings for your layout; improve scenery; build wagons and paint figures. They are here to answer your questions, so don't be nervous, please stop by and feel free to ask.
The Model Railway Club (to be confirmed)
MRC Test Tracks – We are bringing our multi-gauge test tracks that are normally available at Club meetings. At the show you can run any new purchases, and perhaps have a sneak preview of some of the latest models in action.
MRC Membership - Come and visit our stand to find out more about The Club, and take advantage of our special show membership offer.
MRC Shop - Always popular, we have a huge selection of pre-owned items for sale. All are competitively priced so do stop by and have a look.
MRC Bookshop - A varied selection of second-hand railway books at reasonable prices, mostly British but with some quality American titles. Come and browse - you never know what you may find!
MRC membership offer - Join at the show for just £30 and get a FREE* modelling tool set worth £39.95 (Tool set includes: Razor saw and handle; knife with five blades; pin-vice drill with 2 drill bits; pliers; Philips screwdriver; tweezers; hammer; 15cm steel ruler; A5 cutting mat) *Subject to availability and signing a direct debit mandate for membership renewal.
Younger Modellers activities
Head to the dedicated children's area located in the West Hall where the London Model Railway Club will assist young modellers with:-
Kits to make and take home - Materials kindly supplied by Dapol, Metcalfe & Eileen's Emporium
A colouring competition with a Hornby Junior Paddington Bear train set prize-RRP £34.99
A layout competition with a with a Hornby Highland Rambler train set prize - RRP £79.99
Operate the trains on the U2CAN layout plus find out more details about the "young MRC" a monthly meeting for 8-14 year olds who want to develop their modelling skills.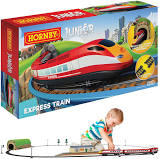 Pendon Museum
Pendon Museum has some of the finest dioramas anywhere and is a source of inspiration and delight to all modellers. For the past two years, in association with BRM magazine they have been making 3D photographs of Pendon's models. Some of these can be viewed on their stand. The central feature of the stand is a completely new 22 foot panoramic 3D photograph of The Vale Scene. Visit the stand to see the photographs and learn more about the Museum.
---