07 September 2021
|
Working wagons should show their battle scars, especially narrow gauge skip wagons. When building an industrial siding for the October BRM, Phil needed some realistic rolling stock, here's how he achieved the look quickly and simply.
The Peco GR-331 Hudson "Rugga" skip wagons are really nicely moulded RTR models. The trouble is, no skip looked like this once it had left the factory.
Work starts by dry-brushing the model with a mix of track colour and rust paints. Inside the skip, it's important to work in a single direction up and down the body, replicating the effects of stones scraping the metal as they are poured in and out of the wagon. This is a great use for a really stiff old brush that's no use for normal painting. Don't use a good brush, as you'll ruin the bristles.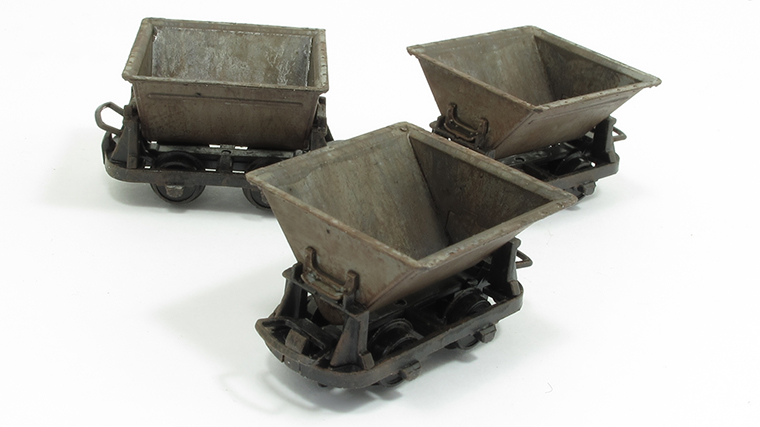 Next, tone the dry-brushing down with a wash of thinned track colour over the whole model. Try to keep the paint away from the wheels and couplings, it's not a bad idea to remove them for this step, or it's possible to gum them up with paint. If this happens, just taken them off and gently scrape the paint away with a blade.
Content continues after advertisements
Finally, give the hopper a good dusting of weathering powder. The colour you chose will depend on the materials your line is transporting. Mine is shifting iron ore, so there's a lot of Humbrol Iron Oxide powder used, but if you are moving coal, you'd be better off with a bit of rust and lots of black. I didn't worry about the chassis, just let a little powder fall on this naturally. The skip has a much harder life than the chassis, and it's nice to show this.
All this work can be split up into 10 minutes projects, allowing the paint to dry between each stage. Perfect for when you are busy, but still need a little relaxing downtime. Happy modelling!
If you enjoyed this, why not try:
Creating rust effects using hair spray
Weathering track without an airbrush
Top tips for using weathering powders
Content continues after advertisement