To help get people started in the hobby or constructing their first layout, we have created a complete package including baseboard, track, and all the scenic materials to get a basic layout built. In this article we set Phil Parker the task of building his own version...
To avoid building a fiddle yard, but still offering plenty of operational potential, the obvious plan was an Inglenook layout – it needs only two points and a bit of flexitrack, yet these pint-sized shunting puzzles are great fun. 'Casket Yard' (as the layout is now known) has an overall size of 110 x 22cm, which allows it to be stored in a plastic box, keeping the model dust-free, and the materials in one place while building.

For a model of this size, eight wagons is enough and you'll need a small shunter; one of those really pretty industrial ones we've seen appear on the market perhaps, or for the traditionalists, a 'Pannier' tank or 'Jinty'. Whatever your tastes, 'Casket Yard' will provide you with loads of building and operating fun, as well as teaching you loads of skills that will be invaluable in the future.
Go to www.brmm.ag/layoutinaboxkit and you can purchase everything in one package. If you're a BRM subscriber you can save 10% off the price too!
Tools Needed
Sharp knife
1 and 1.5mm drill bits, and pin vice
Small, flat-bladed screwdriver
Track cutter (Xuron, saw or slitting disk)
Small hammer
0.5in brush
Pipette
Spray bottle
Vacuum cleaner
Materials
PVA glue
Track colour paint
Spray glue
Hair lacquer
Earth colour emulsion paint
Plastic cement and/or solvent
Strong tape
Building the Baseboard
You can also buy the scalemodelscenery baseboards. Go to www.brmm.ag/baseboardoffer. Subscribers save 10%!
1
Laser-cut in 3mm thick MDF, the baseboard arrives flat-packed and ready for assembly. Instructions are included and it's worth taking a few minutes putting the kit together without glue as getting things in the right order is important.
2
A little PVA woodworking glue squirted into each joint is enough to hold the board together. Wipe excess that oozes its way out of the joint with a damp cloth for a nice, neat job. There won't be any need to force parts together; if it won't fit, the chances are you're using the wrong piece, so read the instructions again.
3
At each end are lozenge-shaped packing pieces to be glued in place. The supplied bolts are very handy to ensure the holes line up properly; just pop them through while the glue dries.
4
The baseboard is made in two halves and once both are assembled, they are glued and bolted together to make a single unit. If you wanted a longer board, you could just buy more modules and bolt them on the ends.
5
Run some glue along the edges of the backscene and clamp (a bulldog clip is perfect for this) the joint to keep things in line. Although not essential, I like to brace the joint with some strong tape just be on the safe side.
6
After around half an hour's work, you should have a nice, flat baseboard that is a perfect fit for a plastic box if you want to store it in there.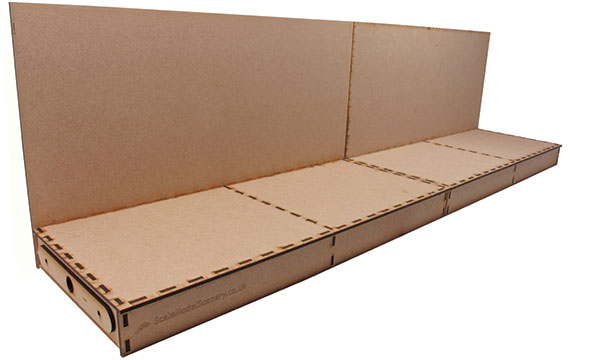 Tracklaying
1
I've drawn a pair of lines 16.5mm apart along the centre of the board to provide a guide for the track. You won't need to do this because the manufacturer has agreed to laser-cut these in on production-run board tops.
2
Tiny layouts need planning. Every inch matters and you don't have space to waste. Track laying starts with the points being placed in position and then trains moved around to ensure there is enough space for whole numbers of wagons, especially in the headshunt.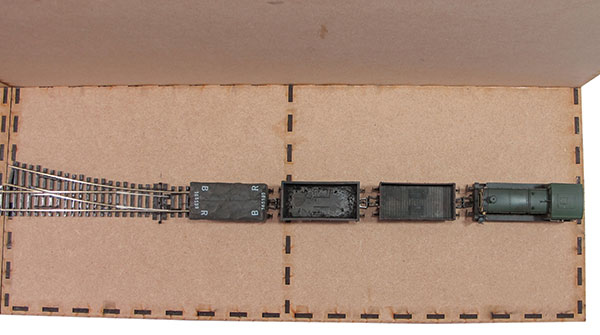 3
To make things easier, our design has the points straddle the joint between the two boards, so working out where they need to go isn't too hard.
4
We aren't fitting point motors, but this might change in the future. I've drilled a series of holes where the tiebar will sit. These are joined up to form a slot with files. One day I might need to poke a point motor rod through here and it's a lot easier to make the hole now, even if it's never used.
5
Peco makes provision for electrical switching of the frog. Although I'm not using this, I drill a small hole in the baseboard and poke the wire through just in case.
6
Track is pinned in place so holes need to be drilled in some of the sleepers with a 1mm bit. I find three holes per point enough, with a hole around every six inches in plain track. You might decide to add a few more on curves but this is a useful rule of thumb.
7
Unless you are very accurate with a hammer, don't try to whack the pins directly in, but use one of the bolts in the kit as a punch. Pinheads should just touch the top of the sleeper. If you bend it, you've hammered the pin too hard.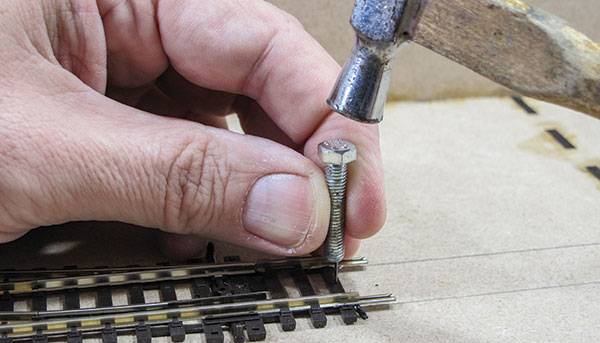 8
Track alignment is important for smooth running and a rule placed along the straights will help keep joins neat.
9
At the ends of the flexitrack, chairs need to be cut from the sleeper to allow the fishplates to slide on. Just run a sharp knife along under the rail and the plastic is neatly cut away.
10
To save soldering and avoid ugly power connection tracks, we're using Gaugemaster pre-wired fishplates on the end of the right-hand point. These slide on as normal and the wires poke through holes in the baseboard. It works brilliantly, and the connection is almost invisible from the top.
11
Even experienced modellers don't always get things right. If a piece of track is nailed down in the wrong place, lever the bottom of the sleeper with a small, flat-bladed screwdriver using the next sleeper as a fulcrum and the pin will be pulled up enough to grip with pliers to pull out.
12
There are lots of ways to cut Flexitrack to length. I've tried them all and find a pair of Xuron cutters the simplest and neatest option, but you may prefer a fine-bladed saw or cutting disk.
13
Where the tracks join around the points, I've cut away the ends of the sleepers on the plain track as they clash with those on the point.
14
Get your eye down to the track level to look along the lines to check everything is flowing smoothly. If you can't get low enough, try using a small mirror placed on the rails to provide a view.
15
Most importantly, every time you join two pieces of track, push a wagon back and forth over the connection. If it doesn't run perfectly smooth, try to work out why. Lumps and bumps don't fix themselves, so time spent now will make for better operation later.
16
The layout laid and wired. I'm confident that the wagon can be propelled from one end to the other, at speed, and not jump or derail anywhere.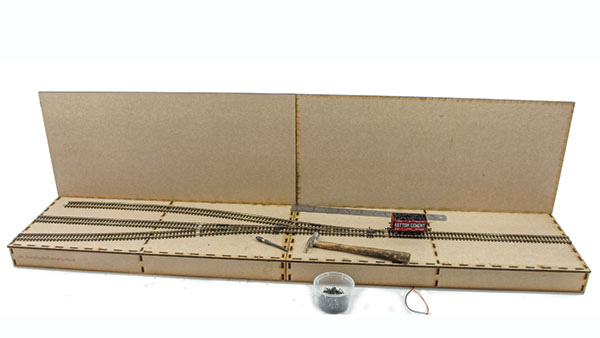 17
Connect the wires to the screw terminals on the controller and it's time to start running trains. This is a vital step and great fun too. I spend an hour or two testing that everything works with a variety of locomotives and rolling stock, just to make sure all is well.
18
Uncoupling ramps clip into the track and must be positioned so the wagons can pass each other when parked.
Scenery
1
Using some brown paper, I mask the entire layout so I can spray glue over the backscene and the back of the board. Make sure the area is clean and tidy when you do this. Bits of grit finding their way under the paper will show and can't be removed later.
2
Smooth the paper down using a piece of cloth or handkerchief as a pad. This avoids gluey fingers touching the surface and leaving fingerprints.
3
Trim the sheet with a sharp knife after it's been stuck in place. It's easier to do this now rather than trying to make the sheet the right size, especially if your measuring is as inaccurate as mine.
4
Most layouts, even this one, are longer then a single backscene sheet. I've arranged the joint to be on the right hand side of the model as it will be easy to plant a tree here if I need to hide it later.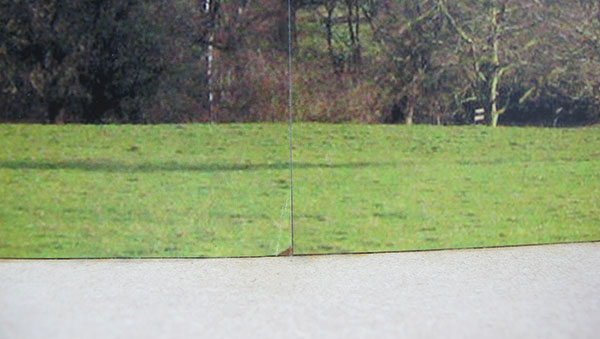 5
The masking is cut back to the track edges as I move on to building a low hill at the back of the model. Screwed-up paper and masking tape form the basis of the land-form, but you could use expanded polystyrene if you have some handy.
6
Plaster bandage is cut into short strips, then quickly dipped in water before being laid over the paper packing. Overlap the strips and build up at least two layers. Keep a damp cloth handy to remove plaster from the backscene.
7
I'm smoothing the plaster with my fingers. It's a messy job, but one that hides the bandage weave. Be careful not to roll up a length of bandage and make a lump. It's often easier to peel this away and discard it than smooth it back down.
8
While the plaster dries, I paint the rail sides with Humbrol Track colour (No.173) enamel. Colouring them this way makes the rails look smaller and more realistic. Be careful around the points; don't paint the sides of the switch rails where they touch the others or you'll stop electricity flowing.
9
The plaster bandage takes several hours to dry – I like to leave it overnight – but can then be painted with brown emulsion to represent earth. This isn't an essential step but if there are any bare patches after the grass has been laid later, at least they will look like earth.
10
Work on the yard starts by coating the area with PVA glue and then sprinkling the Noch asphalt granules everywhere. Pat these down and leave to dry.
11
Remove the excess granules with a vacuum cleaner and then paint the yard with a Noch Tarmac colour. I felt that using a brush for this (Noch suggests a little roller) might pull up more of the granules, so I used a sponge to dab the paint on.
Ballasting
1
We don't want to gum up the points, so I paint neat PVA glue around the tiebar area, being careful not to get it on any moving parts. Keep a brush full of water handy to wash away any stray glue before it sets.
2
Carefully sprinkle ballast on the glue and push it into place with your finger. Blow and then brush away any excess, keeping it out of the moving parts. Leave this to dry as it will protect the tiebar later on when the rest of the track is treated.
3
At track joints, there can be gaps in the sleepers. Take a spare, cut the rail chairs off and slide it underneath. Don't bother fixing it as the rail will normally trap the plastic sleeper until the ballast is fixed in place.
4
Sprinkle ballast over the track and carefully brush it into position. I find that tapping the tops of the rails gently with a wooden brush handle shakes most of the stones into position. Take your time at this stage, neat ballasting greatly enhances the look of the model and on a little layout, tidy working doesn't take long.
5
Mist some water containing a couple of drops of washing up liquid over the track, keeping it off the backscene. You are aiming for damp ballast, not a pond!
6
Now place drops of a 50:50 PVA/water mix with a couple of drops of washing up liquid on the damp stones. The washing up liquid reduces the surface tension so that the mix will flow through the ballast. I find applying the glue on the outside edge of the track is enough - it will find its way to the centre.
7
Once the ballast is dry, the uncoupling ramps can be refitted. To allow them to clip into place, the ballast needs to be removed with a small screwdriver. Once happy, I'll use a bit of superglue under them to fix things properly.
Greenery
1
Paint the hillside with PVA and allow this to dry slightly so it's tacky. While waiting, half fill the puffer bottle with static grass fibres. Give this a shake, then puff generous amounts over the glue.
2
Holding a handkerchief over the nozzle, use a vacuum cleaner to remove the excess grass. As well as cleaning up, this will encourage the fibres to stand up straight. Those collected in the cloth can be returned to the puffer bottle for re-use.
3
In the Gaugemaster starter pack, there is some useful grey dust that I dab around the edges of the yard after spreading some thinned PVA glue around. This provides some colour and texture variation for the tarmac. Try to get the dust where vehicles wouldn't be wearing the surface smooth.
4
It's not just the yard that looks too uniform, the hillsides are a bit plain too. A spray of hair lacquer (don't forget to protect the backscene with paper) followed by a sprinkle of green flock powder gives them some texture and colour.
5
Ratio fencing is painted with Track Colour and then stuck in place using blobs of PVA under the main posts. Add a bit of flock or static grass into these to look like weeds and provide extra bracing to hold each one up.
6
Hedges are ready-made, but too regular for anything found alongside a field. Hack away at them with some scissors to add shape, paint with PVA and then dunk in flock powder.
7
Lichen is a natural substance that used to be a staple for anyone building model railway scenery. It's fallen out of favour in recent times but is still very useful and there is a packet in the scenery kit. The rubbery structure is perfect for hedges and adding branches to trees, as well as being very resilient to knocks.
8
Using the lichen is simple - paint it with PVA glue, dunk into flock powder and you have instant bushes or small trees. Leave to dry, then glue in place behind the fence.
9
Only two buffer stops are included in the 'Layout in a Box' as we'll use an old sleeper fixed to the end of one of the siding instead. This was common in industrial settings and adds 2cm to the usable siding space.
10
In the yard is a shunters' cabin and crane. Both are plastic kits and come with instructions so shouldn't cause problems for modellers. One issue with the crane is that cutting the parts from the sprues is easier with small wire snippers than a knife, although you'll need one to remove any remnants of the sprue.
11
Thread is provided to rig the crane, but it won't hang realistically as it lacks the mass of real rope. The trick is to pull the thread tight, then run superglue on it. As well as ensuring it stays straight, this stops the thread going hairy over time.
12
A yard like this would be too small for a signal box. The points would be moved by hand, but the Wills kit makes an excellent shunters' cabin, or 'bothy'. Leave the windows out until you've painted the model as makes a neat job a lot easier. Don't lose the plastic packing either - you'll need it for the glass.
13
Around the base of both models, add a little flock powder to bed them into the yard surface.

Buy everything you need to model 'Casket Yard'!!
We want to make it as simple as possible for you to model 'Casket Yard'. So, we've teamed-up with Gaugemaster to offer everything you need in one simple package.
Go to www.brmm.ag/layoutinaboxkit and you can purchase everything in one package. If you're a BRM subscriber you can save 10% off the price too!

You can also buy the scalemodelscenery baseboards. Go to www.brmm.ag/baseboardoffer. Again, subscribers save 10%!