20 September 2021
|
Looking to cut the cost of your hobby? Green-fingered modellers can benefit from manufacturing their own scenery, as Howard Smith elaborates.
Unless you're modelling an inner urban sprawl, most layouts need vegetation and trees. Replicating the qualities of static grass on a budget is difficult, but producing your own trees can often bring the best results.
It's a closely kept secret, but some of the most talented of scenic modellers create their trees or shrubs from live plants – either growing them from seed or foraging from shrubs or small trees around the garden. Growing your scenery is environmentally-friendly, less expensive, and can be enjoyable.
Granted, not everyone has a garden, but perhaps you have access to a garden through friends or family? Some of the growing techniques are even possible in a seed tray on a window sill in a flat!
However, we're not all botanists and besides, how does being green-fingered guarantee realistic-looking model trees? To save you the hassle of trial – and mostly error – when growing your own scenery, I've compiled a list of the species most likely to provide good results.
Most of the time you'll need to adapt the collected material to suit your application, so look beyond its initial shape. A variety of clumping and carving techniques can be used alongside model filler to create an impressive branch structure.
Don't be afraid to try; get outside and explore different species! Let's get foraging and growing, make our money stretch further, and improve our layout trees.
Collecting material
The base of many a model tree can be created from twigs pruned from garden shrubs, or with permission, a wood or park. Fallen twigs are easy to collect, but are often rotten and will break easily, resulting in fragile trees. Pruned branches from shrubs are best used for larger layout trees. Why do so many layouts have weedy lollipop-style trees? Aren't you tempted to model a great oak tree? Perhaps an elm with die-back in its branches? Creating these features from a plastic armature can be difficult, but when outdoors, you can select material that will work best for your application.
You can look beyond the 'ordinary', too. Though easily overlooked, roots can be easily adapted to form branches, and often make better trees than branches because of their often more gnarled appearance. Opt for small shrubs with a fibrous root system rather than larger 'tap' style roots. Pruning roots is often detrimental to the well-being of a plant, so it's best to do this on plants that are being lifted or dying.
Harvested from a cut tree, suitable roots are easily found, and a few will go a long way to create an authentic model.
Fibrous roots can be kept in-situ to make smaller lateral branches. Trim excess branches to length with cutters.
The advantage of working with natural materials is that deadwood can be easily created, simply by removing bark from branches.
It's rarely the case that a root or branch will have all the branches you need, and where you require them. Furthermore, if you look at a large tree in nature and observe the taper in thickness from the trunk to the twigs, it's impossible to achieve this in model form to represent old trees realistically, in the space of 20cm or so. Even the best bonsai aren't realistic enough for railway modelling purposes, and, speaking as an amateur bonsai enthusiast, it would be a shame to train one to then kill it and stick it with glue to a layout. Be prepared to cut and adapt several roots or branches and glue them with wood adhesive to make the tree you require.
Content continues after advertisements
GROWING YOUR OWN
Teloxis Aristata or 'Seafoam'
This low-growing plant is commonly referred to as 'Seafoam' by modellers and is often sold by scenic manufacturers to be made into custom trees. It provides a convincing effect when sprayed a brown colour and miniature leaves or flock powders are sprinkled over a layering spray or glue. Although not ideal for modelling ancient trees with thick trunks because of its spindly growing habits, if adapted and added to a thick trunk made from a collected branch or root, it makes a very convincing canopy. Seafoam makes realistic hedgerow trees and shrubs, too, and if you're modelling a winter scene, you don't even need to cover it with foliage! Growing your own simply adds another step to the process, but makes it less expensive, and you'll have enough for your friends, too!
From the cold, dry Gobi Desert, Seafoam likes humidity to germinate, followed by dry conditions once established. Teloxys Aristata seeds will usually germinate in 7 to 21 days, but prefer to germinate with light, so sow fresh (not old) seeds in April over general-purpose compost, in seed trays, but don't cover the seeds with soil. To make the seeds go further, mix them with fine dry sand and sprinkle lightly. A few plants make many model trees!
The plants have a habit of growing spindly if sown too close together, so once germinated transfer to the ground and plant at 20cm intervals for best results. If planted outdoors, they readily self-sow, meaning that you should have an endless supply of plants in subsequent years after your first batch.
Teloxys Aristata likes lots of light, so while you can grow them in a tray, inside, on a window sill, you'll need to rotate them often to keep the stems straight because they will chase the light. You could experiment by leaving them in a fixed position if you're looking for a custom 'crooked tree' effect.
Wait until the plants discolour to an orange/brown hue at the end of August/early September and harvest them. The plants need to be dried and to prevent damage during this process, a 70:30 water/glycol mixture can be sprayed over them a few times a day, but keep this mixture in the fridge when not in use.
After a few weeks, the stems are ready for use and can be divided, glued together to form clumps, or even 'planted' into holes drilled in harvested roots or sprigs to create larger trees.
Hylotelephium Herbstfreude or 'Sedum'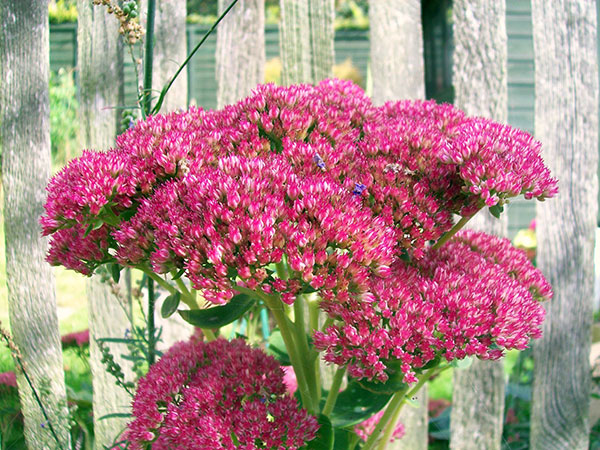 These common autumn-flowering perennials exist in as many as 400-500 varieties, however, modellers can look to the herbstfreude variety for effective tree armatures. These plants need to be grown outdoors and enjoy lots of sun, and can tolerate dry conditions. Just like Seafoam, the plants can be harvested in the autumn when they begin to die back and turn brown. Leave to dry, though store carefully because the plants are brittle when dry and can be difficult to separate. After spraying with the 70:30 water/glycol mixture, these can be trimmed to shape, bunched together to form clumps of trees, or alternatively, cut shorter to create realistic-looking bush armatures.
Achillea Millefolium or 'Yarrow'
Similar in its structure to Hylotelephium Herbstfreude, Achillea Millefolium or 'Yarrow' is easily grown from seed, though be wary because if left to self-seed; it spreads easily and can become invasive.
For propagation, seeds require light, so sprinkle seeds over the surface of the soil, then cover with a very thin layer of soil. It is best grown in a greenhouse in seed trays where temperatures of 20°C can be achieved in the early spring while avoiding the chances of it spreading around the garden. For best results once germinated and to guarantee even growth of stems, transfer to small seed pots and propagate at a spacing of 1ft for even light distribution.
Once harvested, as with other plant types, trim off the dried flower heads before preserving with a 70:30 Glycol/Water mixture.
Spiraea Billardii or Salicifolia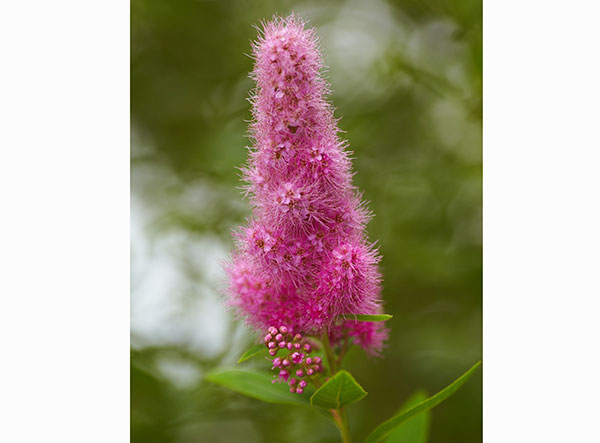 Preferring well-drained soils, this deciduous suckering plant can reach its mature height of up to 2.5m after a decade and isn't overly-fussy about its climate. Unlike the other species presented, which can grow into viable model trees from seed in a few seasons, this species is slower growing. So, unless you, a neighbour, family member, or friend has a large bush in your/their garden, you'll have to wait a few years until you can harvest enough flower heads, or 'miniature trees' for a layout. If you already have access to one, however, you're on to a winner, with an almost endless supply of miniature coniferous trees!
The shape of their flowers when harvested and dried lends them well to evergreen trees, and their shape is easily refined with scissors. For best results, ensure flowers grow straight by propping flower stems up that are growing horizontally or towards the ground with garden canes.
Once painted
Trees aren't all the same height or shape in nature, and nothing comes closer to replicating their many different styles than growing your own plants, or collecting cuttings and adapting them by sculpting with model filler, or gluing several together to create a larger structure.
A choice of realistic miniature leaves, static grass, foliage matting or 'flock' can be applied to your home-grown or collected realistic tree armatures, once painted. Whether you use a mixture of both on your trees, or one of each, you'll save money, achieve better-looking results and use more environmentally-friendly products – what's not to like about that?
Top tip
When dry, many annual harvested plants are brittle. Strength and a degree of flexibility can be achieved by dipping these into a 50:50 water/PVA mixture and leaving them to dry outside on a clothes line with a peg. The process can be repeated a few times, as necessary. To prevent further damage, spray the armatures with paint, rather than paint by brush.
Your weekly World of Railways newsletter
Are you subscribed to our weekly email newsletter? Don't miss the latest news, reviews, modelling advice and competitions.
Content continues after advertisement