25 September 2019
|
How to rust your wagons
For some, painting older items of rolling stock to look more authentic is more important than their level of detail, here we put our skills to the test to improve a vintage mineral wagon.
For some modellers, the most important thing in achieving a realistic model railway isn't the accuracy of the models or the level of detail, but the weathering. Even a model railway built from cheap, off-the-shelf items can be made to look impressive if it's well weathered.
Weathering is perceived as being difficult because mistakes can be embarrassing or hard to rectify, not to say costly. The easiest way to start is on a cheap goods wagon such as a mineral wagon. These were always dirty in service and it's difficult to overdo the weathering effects on an item of rolling stock that was never cleaned in reality. Once you've mastered this technique, you'll have the confidence to try something more challenging, taking a factory item and turning it into a unique piece of rolling stock that you'll be proud to display at the front of your layout.
Shopping List
Cheap paint brushes
Cake trays
A file
Airbrush
Sketching/charcoal sticks
Humbrol 67 & 98 enamel paint
Indian Ink
Content continues after advertisements
Cardboard
Diluted car screen wash
Cotton buds
Burnt Umber Gouache
PVA glue
Newspaper
1
Start with a mineral wagon kit or RTR item. The ones we're working with, as pictured, are 1980s Jouef or Playcraft items that we've upgraded.
2
Spray the inside of the wagon with Humbrol 67 and below the solebars with Humbrol 98. Use a piece of cardboard as a mask for the body. If you don't have an airbrush then hand paint, but thin the paint from the tin.
3
Make up a mix of Indian ink and car screen wash in a ratio of 1:5 – don't make the mix stronger as the former is quite potent. I bought 2.5 litres of readily-diluted screen wash in a pound shop.
4
Paint the mix onto the wagon, aiming for even coverage.
5
Wipe off excess with cotton buds using vertical strokes. Leave more residue in the corners and edges, then leave to dry.
6
If you want a wagon that's just entered traffic and hardly used, you can stop here. Even weathering to this limited degree makes your model look more realistic.
7
Apply neat Burnt Umber Gouache from the tube onto a cheap hog's hair brush. The bristles are stiff and must be spread out for a random distribution of paint. Manipulate the bristles with your fingers to achieve this.
8
Now stipple the brush onto the wagon sides aiming for an even random coverage. You'll find the mixture dries quickly so you'll need to keep applying more paint to the bristles. The model won't take long to dry.
9
Take a flat brush and dip into car screen wash. Brush this lightly down the body and immediately go over the same area with a second stroke. Keep doing this, working around the model until you have covered the entire body.
10
Using a fresh cotton bud dipped in water, remove excess rust colour from the wagon numbering. Leave the model to dry.
11
Take a black pastel and grate it onto a file to get fine powder. Brush this on using a cheap, dry hog's hair brush. Apply to the model around the side and end doors. Brush light browns and greys onto the running gear to get contrast.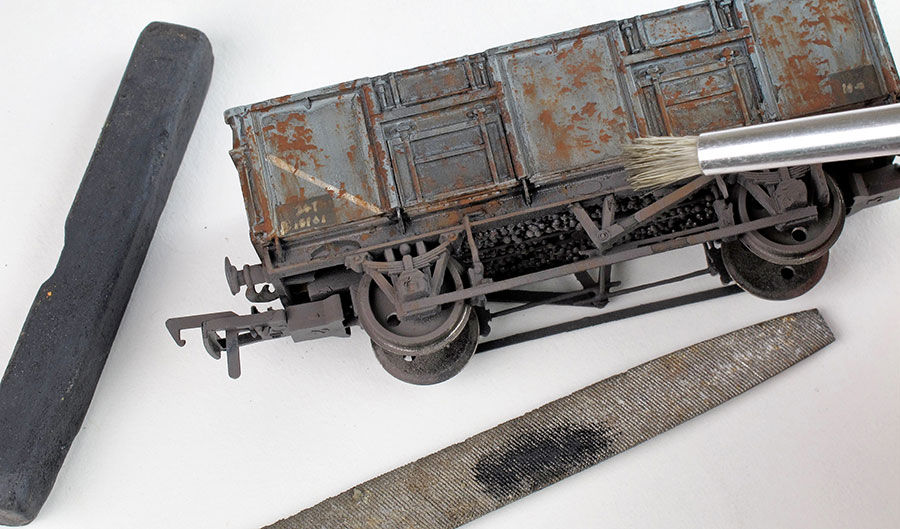 12
Make a 1:1 mixture of PVA and screen wash with a drop of Indian Ink. Evenly coat the inside of the wagon until the surface is damp. If you add too much mixture, use a dry brush to soak up excess. Leave the corners damper so they hold a higher accumulation of material.
13
Using a file, grate together a mix of black and dark grey pastel and using a loaded large soft brush, dust the powder inside the model. Work over newspaper because this is messy. Tap the model upside-down on the bench to shake-off loose material.
14
If the accumulation of coal is too heavy for your taste, use a stiff hog's hair brush to remove some of it. Again work over newspaper to catch loose material and re-use it.
The techniques demonstrated here are within everyone's reach. They're quick, which is important if you have a rake of perhaps a dozen wagons to weather. You too can produce great results if you follow these instructions to the letter. The most important thing to remember is not to fiddle with the affects you achieve. Give the model a chance to dry and see what it looks like before passing judgement. If you don't like the results you can always wash them off and start again.
Top tips on how to add rust to your model wagons
Use old/cheap brushes for a project like this.
If a brush sheds bristles in use, remove them from the model once it's dry. Avoid the temptation to remove hairs when the model is still wet.
Rust patches look better when they're random, or they'll looked contrived. Avoid large solid patches that give a 'Holstein Friesian cow' effect.
If you'd like more advice on weathering a wagon, Phil Parker gives you a full demonstration in our latest video.
Now you've weathered a wagon, take a read of our step-by-step guide to weathering a locomotive using paint washes and powders here. Or if you'd like more general tips on weathering a locomotive, see our article here.
Over the coming months, we'll be adding more step-by-step weathering articles to our 'Techniques' area of this website. Keep an eye out for these and follow the guides to further improve your model railway weathering.