18 October 2018
|
The Hornby Sentinel is a colourful and popular model. Use these simple techniques to add more details and a typical coat of grime.
A massively popular model, here's how you can add detail and character to a Hornby Sentinel in around two hours
Widely available for around £50, the Hornby Sentinel was a popular model and graced a great many model railway layouts as a result. Brightly coloured and full of character, here's how a few simple additions and weathering techniques can really bring the model to life. Better yet, all these enhancements can be made in around two hours.
This guide is aimed at railway modelling novices, so we have used a little paint and weathering powders when adding dirt. If you have spraying facilities, a light mist of mucky brown paint over the model is a good starting point, but don't forget to mask the windows on the model first, and work outside or in a well-ventilated room if you're able.
Okay, the clock is ticking so let's get started...
Paints and weathering powders used
Humbrol Acrylics
RC407 - BR Matt Yellow
Humbrol Enamel
28 – Camouflage Matt Grey
33 – Matt Black
173 – Matt Track Colour
27001 – Aluminium Metalcote
Humbrol Weathering Powders
AV004 - Smoke
AV007 - Dark Earth
MIG Weathering Powder
PG107 – Eroding Burnt Rust
1
Before you start, do a little research either online or at the library. There are loads of photos, many of which you can find at
www.RMweb.co.uk
.
2
The Hornby model is based on the locomotive as preserved on the East Somerset Railway. As such, there are a few livery differences from the locomotive in service. The main difference being that the red paint hasn't yet faded to pink!
3
On the outside edges of the buffer beams are lifting rings which need to be drilled through to leave a 1mm hole. This is a diecast part so a sharp bit is required. A pin vice is safer than a power tool, as you don't want to drill into the buffer housing.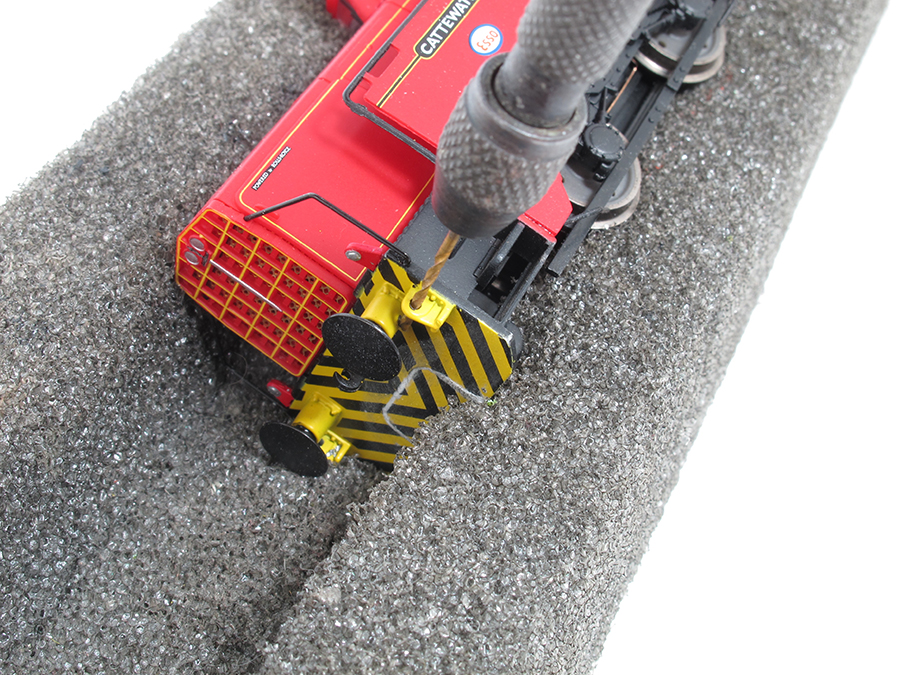 4
Wasp stripes should carry around the edge of the buffer beam but can be added with yellow paint. For speed we use acrylic and we also painted the axle boxes and the filler around the coupling blanking plate.
5
Removing the body requires undoing a screw underneath the model and unhooking the front handrails. The cab interior is quite bulky to cover the DCC chip and moulded in blue plastic. Photos appear to show a pale colour, either grey or cream. Picking out the desk in this and the rest with matt black looks better. While you have the black to hand, the sandbox fillers in the side should also be this colour.
6
A Dapol workman, suitably altered, fits the cab well. The driver was sat so he could see backwards and forwards easily - shunters spend as much time going one direction as the other.
7
With the bonnets out of the way, dry-brush the checker plate with silver paint. This seems very bright on the preserved loco although in service it was much muckier. After this, re-assemble the model.
8
Emphasise all the panel joints with thinned track colour. Place the brush in the gap and let capillary action draw the paint from the bristles. If you've thinned it enough, it will quickly flow along the joint. Do the same for the corners and anywhere dirt collects on the real engine.
9
Dust the model with brown and black weathering powders using vertical brush strokes. Work over a plastic tray and let the colours mix up to provide different shades of muck.
10
The buffer beams really need a thick build-up of dirt, but are too smooth for the weathering powder to cling to. A shot of hair spray makes them stick. If you overdo this effect, a wet cotton bud cleans things up.
11
Finally, the buffers should have a smear of grease in the centre. A soft pencil rubbed on them represent this perfectly.
Expert Tip - High Speed Weathering
Weathering a model shouldn't really be rushed. In an ideal world you ought to leave paint time to dry fully or it's easy to lift one coat away by over painting it with another. If time is short, there are a few tricks you can use:
Content continues after advertisements
- Acrylic paint dries faster than enamel
- Use a hair-dryer to make the paint touch dry faster. If you hold the model in your hand, your fingers will tell you to put it down before you risk melting anything, no matter how high the heat setting.
- Weathering powders work wonders. Many modellers use them exclusively and there is no drying time.
The image above shows the finished product. Gone is the shiny, out-of-the-box Hornby Sentinel, now replaced with a dirty and realistic-looking locomotive. This look is easily achievable by modellers of all abilities, including beginners. Give it a go. You might just surprise yourself.
For even more weathering/painting articles, click here.