24 January 2020
|
Experienced modeller, Graham Nicholas, provides us with a step-by-step timeline on the construction of his iconic layout, 'Hills of the North'.
Despite taking nearly forty years to come to fruition as a layout, I was forever sketching grand model railway 'system' schemes at a young age, featuring railways in the hills of the North of England, usually centring on Carlisle. The concept was therefore 'ready to go' when I was engaged in idle conversation with fellow LMR modeller Barry Oliver. This was 2015 and thoughts were turning to Warley's 50th anniversary celebrations in 2017, Barry being a member of the organising committee at the time. The idea of a layout depicting Britain's railways as they were in 1967 came up and the rest, as they say …
My Carlisle 'master plan' includes a 20ft long section of Shap Bank – basically the Shap Wells scene – and so this stretch forms the basis of the scenic section of the layout, configured as four boards, each 5ft long, which pack together for transportation in pairs. To this, a further two boards have been constructed, configured to take the railway round a gradual 90-degree curve that depicts the iconic Shap Summit scene, where the bankers drop off and the train engine fireman can put the shovel down, bang the injectors on and take a well-earned rest for the subsequent free wheel down to the border city…
Total construction of 'Hills of the North' took 20 months, making use of 'Grantham's' (Graham's other layout) fiddle yard to initially exhibit the layout; a purpose-built fiddle yard has subsequently been constructed.
Many are quite surprised at how short a construction time it was but I work on the basis that I only have one lifetime in which to get to complete my larger Carlisle magnum opus (of which 'Hills of the North' is a component part) and have consequently developed an approach that provides the level of detail that I am comfortable with, while allowing for fairly quick construction. First and foremost is the use of the Peco streamline trackwork system, with some subtle adaptations of the pointwork to capture prototypical track formations and alignments. To be fair, there isn't exactly a lot of complex pointwork on my layout and the main scene past Shap Wells is just a plain length of double track. A subtle detail here is that it is all laid to the prototypical 11' 2" track centres dimension, which scales out at approx. 45mm, as opposed to the more typically OO spacing of 50mm. To me, laying the tracks slightly closer like this makes a huge visual difference in seeking to convey the distinctive British look to a double track formation.
Eagle-eyed readers might also spot the use of foam ballast underlay. Undeniably a compromise to speed up the creation of the permanent way, it has a number of well-documented shortcomings, notably its eventual degradation. However, once again I have developed an approach to suit my purposes, chief amongst this being 'spray before you lay'. This takes away the slight sheen and otherwise unconvincing colour of the foam as supplied and, as a by-product, the spray paint also provides a protective layer to natural UV light that is a contributor to the degrading process.
Content continues after advertisements
The use of the foam ballast has the further the twin benefits of quiet, smooth running (often commented upon at exhibitions), as well as replicating the neat ballast shoulders so typical of the steam era. A final task is to infill the central section with a similar colour ballast to complete the trackbed effect.
Aside from the trackwork, the creation of Shap was largely an exercise in carpentry and chicken wire and the following sequence of pictures illustrates aspects of the construction.
To read the completed layout article in full, plus get a history of how the iconic locomotives made it up one the most famous and arduous of climbs, read the March issue of BRM, available in shops from January 30th, or online today by clicking here.
1
Feb 2016 – test piece to check out ideas.
2
March 2016 - 20ft length of Shap Wells scene marked out on lining paper
3
Lining paper templates used to cut out 9mm ply trackbed pieces.
4
Each 5ft board assembled using a second length of 9mm ply fixed vertically to create a T-beam structure between two end pieces.
5
April 2016 – 20ft Shap Wells scene now supported with folding legs.
6
Paper trackbed template used to position track alignment pins every 6 inches (15cm). The offset of each pin to the pins either side is then measured and fine adjustments made to create a smooth alignment.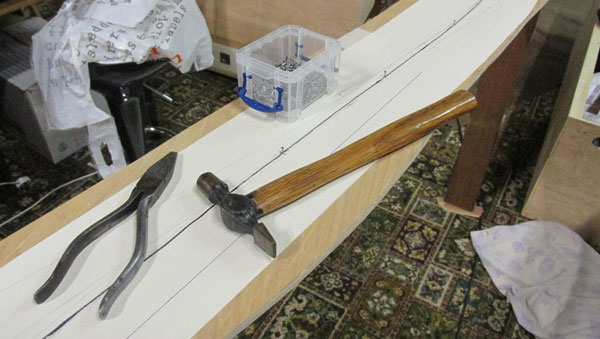 7
Intermediate scenery support pieces and front fascia pieces added from 6mm ply.
8
May 2016 – Shap Wells hotel road bridge structure.
9
Chicken wire affixed to create base for scenery.
10
Mod-roc applied over 3mm balsa wood strips to create formers of drystone walls.
11
Drystone wall texture applied using coloured plaster mix, scribed while wet.
12
Scenery base coat applied once drystone walls have been completed.
13
Rear scenery profile pieces added.
14
Dec 2016 - Two 45-degree curved boards for the Shap summit scene.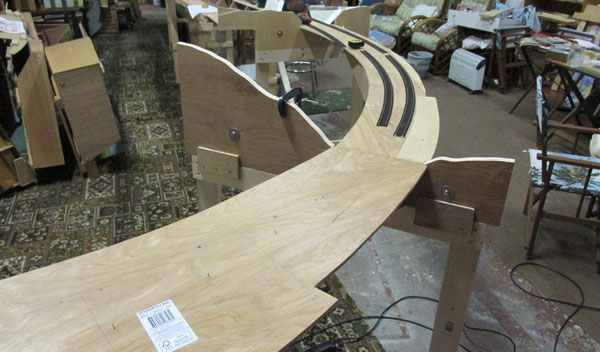 15
Scenery profile pieces added to create structure for cutting approaching summit.
16
Chicken and polystyrene used as the basis for cutting sides.
17
Jan 2017 - Greenholme road bridge under construction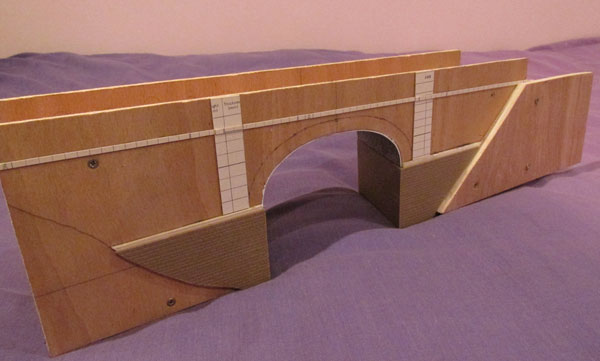 18
Greenholme bridge installed as part of removeable scenery piece forming the right hand end of the layout.
19
Feb 2017 - cutting base coat being applied.
20
April 2017 – Scenic covering being applied, now sufficient length of drystone wall has been completed. Note that tracks are not laid at this point.
21
Further scenery work included the stream under the embankment and accompanying trees.
22
May 2017 – Similar scenic treatment to the cutting section. Track laying has now commenced, positioned using track alignment pins.
23
Shap Wells scene beginning to come to life.
24
June 2017 - Cutting rear scenery formers, leading round to summit scene.
25
July 2017 – Scenery rear formers, leading up to backscene, being installed.
26
Aug 2017 - Summit scene under development. Signals under construction and wiring being installed.
27
High-level footbridge across cutting under construction from brass strip.
28
Relay panels being installed to control signals and banking operations.
29
Sept 2017 – Summit scene ready for scenic covering.
30
Oct 2017 – All hands to the pump applying remaining scenic covering at the summit.
31
Greenholme bridge scene awaiting completion of scenic treatment.
32
Nov 2017 – Backscene painting and nameboard / lighting pelmet under construction. Backscene painting a joint effort between myself and Craig Thompson.
33
Figures (the work of Tom Dewdney) applied as finishing touch.
See 'Hills of the North' in action at Model Rail Scotland in Glasgow this February or at the York Model Railway Show in April.
If you've been inspired by Graham, head to our Techniques section for a wide range of articles offering practical advice, from baseboard construction and weathering to kit building and scenery.