17 September 2021
|
DCC users are increasingly swapping traditional DCC handsets for smartphones with apps. Howard Smith investigates this growing trend.
DCC has matured as a form of model railway control. No longer are its users classed as a 'minority', with enthusiasts of all ages taking advantage of its sound, light and accessory control benefits. Innovation in recent times has seen the release of more compact decoders, custom sound speaker enclosures, better decoder to locomotive board socket designs and more storage space for sound-emitting variants.
Though many users have benefited from these improvements, it could be argued that we're reaching a summit where everyone's control needs are fulfilled.
Decoder manufacturers are pursuing additional decoder features such as ABC braking functionality or 'on-the-fly' programming, while a number of talented DCC enthusiasts are turning to software for enhancing the model railway operation experience.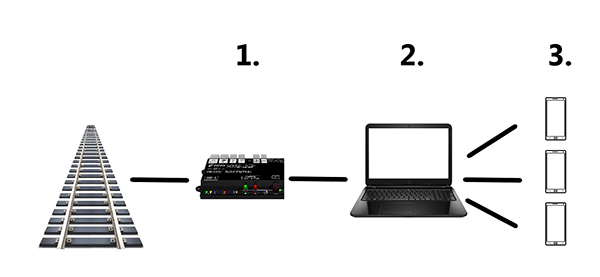 Interface concept
Using one of many programmes created by model railway manufacturers – or enthusiasts – a model railway can be controlled – even entirely automated – from a computer. Such benefits are often used on larger model railways, which display a number of complex operations, from point to accessory or locomotive control. Miniatur Wunderland in Hamburg uses such an interface, reducing the likelihood of an operator mistake being made and potentially bringing all museum exhibits to an embarrassing halt.
More recently, DCC users with smaller layouts have become wise to another side of computer control, as they operate their layouts from smartphones or tablets. A number of readily-available mobile devices can be used as additional model railway controllers, by adding a wireless (WiFi) router as a means of communicating with the computer running JMRI. Smartphones or tablets, whether running iOS or Android, can be used as controllers using any one of an increasing number of programmes to operate a model railway. Because many users have spare or redundant mobile phones or tablets, adding more handsets to a model railway can be made possible for little financial outlay.
Content continues after advertisements
App control
Java Model Railroad Interface (JMRI) is an open-source project providing building tools for model railroad computer control. Its creators want it to be used by as many people as possible, so it has been created using Java to run independent of specific hardware systems. JMRI is intended as a 'jumping-off point' for hobbyists who want to control their layouts with a computer, without having to create an entire system from scratch.
JMRI being a framework of tools for communication, has allowed a number of enthusiasts and software developers to create Apps designed for model railway control. Its WiThrottle window controls the connection between WiFi throttles (iPhone, iPod Touch, or Android 'phone) and JMRI.
A number of preferences can be set under JMRI for WiFi throttles. The WiThrottle utility broadcasts its connection information across all local networks, so it can be picked up by any device looking for the service. As such, users don't need to enter connection information into their device.
Evidently, there are some drawbacks to using a 'phone as a WiFi throttle – if power or connectivity to the computer running JMRI is lost, or the computer enters sleep mode, control will be lost. System preferences may need to be adjusted to prevent the computer from putting itself to sleep when inactive for long periods of time.
'Byway MPD' featured in the June 2020 issue of BRM. Its points, accessories, and locomotives are entirely controlled by JMRI, using the Engine Driver app on a smartphone.
Benefits
Aside from the reduced costs of adding handsets to a model railway for little effort, particularly as many operators will already have a compatible device, there are other advantages to mobile 'phone control setup. Typically, people using smartphones or tablets as throttles are physically in the same room as the layout they are controlling. Mobile device throttles, however, can be operated from anywhere in the world, adding to the fun of model railway operation by making it possible to share control of a layout with family or friends many miles away. Add a webcam to the mix, and it's possible to play trains on someone's layout located miles away – in a different country, even!
The main benefit of using mobile devices connected to JMRI on a computer is JMRI itself. This framework allows users to assign descriptive text to function buttons. Its use is proven to avoid getting in a muddle when operating different DCC locomotives if you've forgotten which button plays what sound. This is perfect for new layout operators, or those who are sometimes a little forgetful! Thus, F1 can be renamed 'Sound', F2 'horn', and so forth. When saved to a JMRI database on a PC, each connected handset device will automatically load the custom functions when the relevant locomotive is selected.
Many of the available Apps explain the features via their respective websites. It's useful to visit these first to get an idea of their abilities, or limitations.
Choosing an app
There are a number of apps available on the market, some free, others require a small fee to access more functions. Choosing one that suits the operator depends on the type of 'phone – iOS or Android, or alternatively a PC. Not all are available across all platforms, which limits choice somewhat and some are more intuitive to use than others.
For Apple iOS users, a commonly-used app is the Lite version of 'Withrottle', available as a free download, giving basic control of locomotives, but upgrading to the full version allows the control of points and the use of the JMRI web server to display your layout panel on your device. Both versions can be found on the 'App Store'.
Android users have an alternative, 'Engine Driver'. It offers control of locomotives and points, and it has the layout panel display, too. The download is free via 'Play Store'. Not all users prefer the same app, even though the likes of DigiTrainsPro is available across Android, iOS and PC. Taste is subjective and the best way to find out which you prefer – rather than asking what other users recommend or prefer – is to test each for yourself and the way you operate your layout.
For more information on DCC controllers, have a look at our guide here.
If you're looking for more advice on wiring your layout, the below articles should help give you a steer.
Wiring your model railway - top tips
Still searching for trackplan inspiration? Our guide gives you simple trackplan suggestions to help you get started.