30 August 2023
|
Here are the most popular DCC decoder options for your model railway locomotives...
The concept of 'going digital' is no longer something new, yet there's still a widespread lack of knowledge when it comes to decoder options. It has to be the second most-asked question, closely following "Which DCC system should I use?" Just as there isn't a 'one-size fits all' DCC controller, the same can be said for decoders, though many modellers are left confused by what they require and the suitability of a decoder for a particular locomotive.
Sound or Mute?
Decoders are largely categorised into sound and non-sound types. The key driving factor of locomotive decoder choice has to be whether you desire sound and are prepared to pay the extra premium for the added functionality. The ability to play realistic sounds from your models has played a large part in converting many modellers from analogue to DCC. Personal preference means that sound isn't for everyone, but I can guarantee that between two identical layouts, my choice would be the one with realistic sounds over the one that remains silent.
For owners with large fleets of model locomotives looking to convert, the additional cost of sound might seem prohibitive, but ask yourself if every locomotive in your fleet requires sound. The noise of a Deltic Napier engine at full pelt hurtling around your layout is sure to be more impressive than a Class 08 that spends most of its time idling in a siding between duties.
Calculating amperage
After sound come two simultaneous factors to consider – the size of decoder for the amount of space inside your model and the number of Amps that the decoder can handle. Generally speaking, the larger the decoder, the larger the surface-mounted technology used, and hence, the more Amps the decoder can handle. You'll need to strike a balance between the two. Most new RTR models are designed for the easy installation of decoders inside models. These can be recognised by the DCC-Ready wording on the box.
Matching a decoder to your model is important to avoid premature failure. In essence, your model will consume a maximum number of Amps when in use - consider this the volume of electricity that is flowing through the components in your decoder. This can be calculated by placing a multimeter in series between one rail of your DC track and the controller, turning the dial to 'A' and running the model at full speed with the heaviest train it is likely to encounter, up inclines if your layout has these. The highest reading that your multimeter indicates is your motor amperage – a key factor when choosing your decoder. I'd suggest choosing a decoder that is capable of handling 15% more than this figure to prolong its lifespan and reduce the likelihood of overheating.
Continuous or peak power are terms that many decoder manufacturers use. Knowing the difference between each is important. As the name suggests, continuous power is the number of Amps that the decoder can handle non-stop without risk of damage. Peak power is the number of Amps a decoder can withstand for a brief moment lasting just a few seconds. Generally, more Amps are consumed by a locomotive's motor as it makes a standing start with a heavy train and for this reason decoder manufacturers provide this figure for peace of mind.
Socket Type
Locomotives that have been sold 'DCC ready' will be fitted with a decoder socket from the factory. These vary in dimensions and number of pins fitted. Six, eight, 18, 20, 21 and 22 pin types mean that for the newcomer to DCC, your choice of decoder should match that of the socket installed inside your locomotive for a 'plug and play' solution.
Some manufacturers offer wiring harnesses or adapters to permit the installation of decoders with non-compatible sockets, too. Bear in mind that the six and eight-pin decoder sockets will restrict the number of individual accessory functions – such as lights – over Next18 or 21-pin decoders, for example. Eight-pin sockets are common with Hornby locomotives, with Bachmann and Dapol favouring 21-pin versions for their OO gauge models and Next-18 sockets on their most recent N gauge releases.
DCCconcepts
DCCconcepts offers its Zen Blue (V9) and Zen Black (V12) decoders for OO gauge. The manufacturer has kept away from the development of sound decoders in favour of developing unique features such as automatic shuttle technology – great for layouts with repetitive operations such as a DMU moving from a fiddleyard to a bay platform. Zen Black has three key advantages over Zen Blue:
Silky-Smooth Motor Control with built-in brown-out protection
'One-Step Setup' using a single CV change to select the driving characteristics of your locomotive
An integrated Advanced Shuttle, for use with its ABC boards.
In eight-pin format, its DCD-ZMINI is supplied with a wiring harness and offers four functions. The eight-pin harness decoder can be fitted either plug-and-socket or hard-wired. Zen Mini has four 100mA functions along with a 1A motor drive. Like the rest of its ZEN decoder range, it is wired for its standard and super Stay-Alive™ capacitors – available separately.
This four-function decoder measures 19mm x 11mm and benefits from an advanced brown-out protection that removes requirement for a small stay-alive capacitor and assists with running on dirty track. Its 0.75A continuous and 1.1A peak rating make it suitable for the majority of OO gauge models. Another advantage with this decoder is its one-step setup, where the decoder settings can be changed for different types of locomotives (express passenger or shunting locomotive, for instance) or driving characteristics using one CV. Its ABC functionality allows automation for use on layouts or with DCC shuttles, used with additional ABC units which are sold separately.
For those with 21-pin connections, its DCD-Z218 is a 21-pin direct decoder and eight-pin harness decoder with six functions. The DCCconcepts Zen 218 decoder is a versatile decoder because it comes complete with 21- and eight-pin plugs. Its compact 22mm x 16mm x 5mm size means it will fit most OO/HO scale locomotives. The decoder includes a separate stay-alive unit. The 21-pin to eight-pin harness measures 75mm, meaning that it can be located inside a model away from the socket if space permits. It offers six functions and has a motor drive current rating of 750mA continuous or 1A peak.
For those looking for a decoder with more features, its DCD-ZN218.6 follows the same pin and harness architecture with 21-pins, supplied with an eight-pin harness. This Zen Black decoder offers six functions, each capable of 100mA, with motor drive supplying 1.1A of peak power, or 750mA of continuous power. This decoder benefits from the Zen Black features, previously described and measures 23mm x 16.5mm. DCCconcepts also offers the above decoder in a pack (DCD-ZN218.6S),which includes three ABC shuttle boards.
Content continues after advertisements
ZIMO
Zimo decoders have a standard suite of features irrespective of price point or specification. They are suitable for all DC motors, including coreless types and have integrated thermal cut-outs with overload protection. Automatic motor regulation with 20 or 40 kHz 'silent drive' with back-EMF sampling which makes motor control smooth.
Three and 28-step fully programmable speed curves are offered, with the ability to calibrate speeds to km/h or mp/h equivalents. A suite of lighting features (inc. dimming and soft on/off) are offered. Shunting and half-speed modes (low gear, no momentum) assist with slow speed operations, while automatic signal and distance-controlled stopping can be of use on larger semi-automated or non-computer-controlled layouts.
All Zimo decoder can operate on analogue DC and are RailComTM equipped for bi-directional data communication. If necessary, the decoder software can be updated via the track. Zimo decoders are available in sound and non-sound formats.
Designed to be its economy non-sound decoder, the MX600 from Zimo has been achieved by focusing on what the railway modeller needs from a budget-priced chip and omitting costly superfluous features. This decision, combined with clever circuitry, has allowed for a compact single-sided design.
Despite being pitched as an entry-level motor decoder, it is of a technologically-advanced design with an impressive specification with good motor control. The footprint measures 25mm x 11mm with the single-sided layout resulting in an ultra-thin height of 2mm that can be a major advantage where space is tight. The 0.8A (1.5A peak) motor rating makes it capable of handling all but the most power-hungry OO gauge locomotives and four function outputs are sufficient for basic lighting arrangements.
MX645 is Zimo's premium OO gauge sound decoder. It offers 10 separate function outputs - more than other brands. They don't all need to be used, but cab lights, directional lights, high-intensity lights, smoke, firebox glow effects, tail lamps or automatic uncouplers mean that these can soon add up. Switched inputs for the control of synchronised sounds or track-mounted triggers for sounds like a warning whistle before a tunnel using a magnet in the track are also possible.
The direct stay-alive connection on the MX645 means that simple electrolytic capacitors can be attached directly without the need for extra components. It is regulated to 16V, which means small components can be used, ideal for small locomotives where space is hard to find. This decoder can be used with the SC68 super-capacitor.
Gaugemaster
Besides stocking a range of decoders from many manufacturers, in recent years, Gaugemaster has commenced manufacturing its own-branded entry-level decoders. Designed to suit many of the common plug/pin types, the range offers savings by offering decoder packs for those looking to convert a fleet of locomotives. Visit its website to see the full suite of other socket types offered.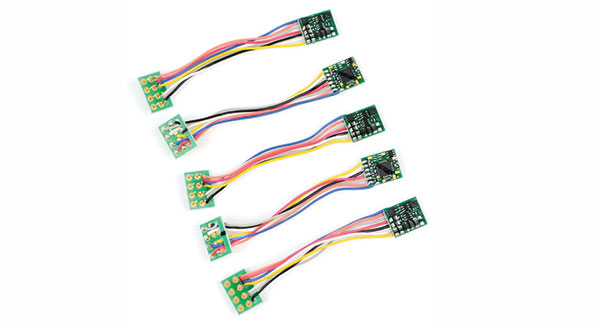 Its classic eight-pin micro decoder (BPDCC22) is best suited for OO gauge locomotives. It comes complete in a pack of five, if desired, each with a harness to an eight-pin plug and is one of the firm's most popular decoders. It offers 14/28 speed steps, motor isolation protection, two and four digit addressing and advanced consisting. A 1A motor output (2A peak) with two 0.5A function outputs make for a no-nonsense cost-effective solution. Each decoder measures 10.6mm x 8.7mm x 2.8mm.
ESU
An early pioneer in the development of sound decoders, this German manufacturer of decoders has been chosen by some RTR manufacturers as their decoder of choice in DCC-fitted and DCC sound-fitted models. Having released its V5 version of its Loksound sound decoders, a name it established in 1999, these continue to be made available in the UK via a number of DCC retailers who provide custom locomotive sounds. A visit to its website will highlight the availability of these sound decoders for N, OO, O and larger scales, with traditional non-sound decoders, also available for these scales.
Motor control of the LokSound 5 has been further improved with this latest version. Illustrated is its decoder for OO gauge or smaller O gauge models. A motor frequency ranging from 10 kHz to 50 kHz assures smooth operation, particularly for coreless motors. Thus, the typical 'hum' is a thing of the past. Load control can now be adjusted with up to ten separate CVs and thus will manage even the most difficult cases. It also offers an 'Auto Tune' function that facilitates the automatic calibration of the decoder to perfectly match the motor inside your model. The LokSound 5 decoder supplies up to 1.5A motor current. Should your model venture onto DC layouts, operation and sound will continue to work, albeit without the sound and decoder functions.
The LokSound 5 decoder can reproduce up to 10 channels simultaneously. Each channel offers up to 16 Bit / 31250 kHz sound, to achieve hi-fi sound quality. The volume of all individual sound fragments may be adjusted separately and the ambitious user can use its ESU LokProgrammer on PCs (available separately) to alter the sounds provided as standard from retailers, if desired. The LokSound 5 is the most important member of the LokSound family. Due to the combination of the digital decoder and the sound module being on one circuit board, it measures 30mm x 15.5mm. The decoder is available with an eight-pin, 21MTC, PluX22 or six-pin outputs for widespread compatibility.
Hattons
Hattons moved into the entry-level decoder market a few years ago, offering budget 'own-brand' motor control decoders. Its decoder range was launched with 18-pin four function, 21-pin six function, six-pin two function, eight-pin four function, and eight-pin two function decoders, also available in multiple packs thereof. Designed to be cost-effective, the range of adjustable features doesn't extend to the same level as more expensive versions, but provides the most commonly-used CVs, suitable for the majority of DCC users.
Its eight-pin direct plug DCR-8PIN-Direct delivers four function outputs, three and 28-step speed tables, back EMF, silent drive, supports consisting, standard and extended addressing and CV programming in its specification.
Measuring 13mm x 18mm x 3.6mm, the decoder is slimmer than many others for its number of features, hence is suitable for fitting inside models with reduced headroom such as locomotives with low tenders. The number of adjustable CVs is adequate for many locomotives, but isn't as comprehensive as more expensive decoders. The adjustable CVs offer smooth running, the ability to turn off Back EMF when double-heading and a decoder-locking feature useful for multiple decoder installations. The decoder will operate on DC layouts, too and offers a 1.1A motor output (1.6A peak). A purple wire is provided for the fourth function output.
The decoder plug terminals are connected directly to the chip. For further adjustment, a 75mm harness (DCR-8PIN-Harness) can be purchased from the supplier, enabling the decoder to be positioned away from the socket.
Hornby
This household brand of model railways offers entry-level sound and non-sound decoders aimed principally at its range of models. Alongside a four-pin decoder, Hornby offers a decoder in its popular eight-pin socket format (R8249) that conforms to NMRA standards.
Measuring 17mm x 10mm x 3.5mm, its R8249 provides back EMF for smoother control and offers 14, 28 and 128 speed steps, with adjustable acceleration and deceleration speeds. Motor overload protection is provided with a 0.5A (1A peak) power output. Furthermore, four function outputs are provided, two of which are dedicated for directional lighting. Function outputs aren't protected and the sum total of the motor and function outputs shouldn't exceed 500mA continuously.
Venturing into low-budget DCC sound, Hornby is offering an increasing range of entry-level sound decoders that are fitted as standard as part of its TTS Sound models, or available separately to retro-fit inside models. These decoders can't play sound under DC analogue control, only DCC operation. The decoder supports short and long decoder addresses and has adjustable acceleration and deceleration CVs. As with its non-sound decoder, it has back EMF load compensation.
Up to 19 controllable model-dependant spot sounds are available, such as engine sounds, whistles or horns. Two sound channels allowing for simultaneous play of locomotive engine sounds and individual spot sounds such as horns, whistles, brakes or wagons coupling, but only one spot sound can be played at the same time.
Volumes can be altered through an individual dedicated CV, ranging from 0-8. The decoder is equipped to support directional front and rear lighting operation via F0 on the controller. The decoder also features an auxiliary function output controlled by F18 or F25, dependent on steam or diesel locomotive type.
As with its R8249 decoder, a maximum continuous motor current of 500mA (1A peak) is provided and its unprotected function outputs have a 100mA maximum output. The combined motor and functions can't exceed 800mA. The decoder has an eight-pin socket. For Class 43 HST locomotives, the manufacturer offers twin packs, containing two units, one for each power car.
Bachmann
Widely available from its network of 'brick and mortar' model shops, the RTR manufacturer offers a range of re-branded decoders from manufacturers in six-pin, eight-pin, Next18 and 21-pin sockets. An 8-pin to 21-pin DCC adapter is also useful in the range should you wish to fit an 8-pin decoder to one of its OO gauge models which often have 21-pin connections.
This 1A four function decoder is provided on a 21-pin DCC socket with back EMF. Measuring 25mm × 15.5mm × 4.5mm, it handles short and long addressing. User adjustable 14/28/128 step adjustable speed curves with configurable function settings and a higher 350mA function output over its 35-566 decoder make it a common decoder. The decoder is NMRA compliant and analogue compatible.
Its basic decoder (36-566) is a 0.9A four function decoder on an 8-pin socket. The architecture is by ESU, hence motor output overload protection, back EMF, lighting effects, smooth motor control, function mapping, DC operation and coreless motor compatibility is offered. Each output offers 250mA of power and it measures 15mm x 24mm x 4.6mm. The 80mm harness is long enough for most models and RailComPlus is integrated for bi-directional communication.
If you'd like more advice on how to set up a DCC decoder, our easy-to-follow tutorial should be your first stop.
For more advice on about DCC, head to our dedicated section.
Content continues after advertisement