19 April 2021
|
In the May 2021 issue of BRM, Phil Parker builds a OO signal box kit from Dexters Cove. The manufacturer also produces a 3D-printed variant for 2mm:1ft scale – time for a closer look?
Dexter's Cove 2mm:1ft scale signal box is a single-piece 3D printed item. This sample is the first to leave the printer, hence its colour – production models are supplied in a grey finish. It's finely-detailed and requires nothing more than painting and glazing.
A few coats of Humbrol 121 enamel from the airbrush covers the red and gives an excellent base colour for the rest of the painting. I haven't primed the model because I don't want to hide the detail.
The brickwork is dry-brushed with Humbrol 70, then windows are painted off-white. This is definitely a job for your smallest brushes because the main body of the 'box is only 45mm wide. This close-up photograph is a little cruel, but a light dusting with weathering powders will hide wobbly lines.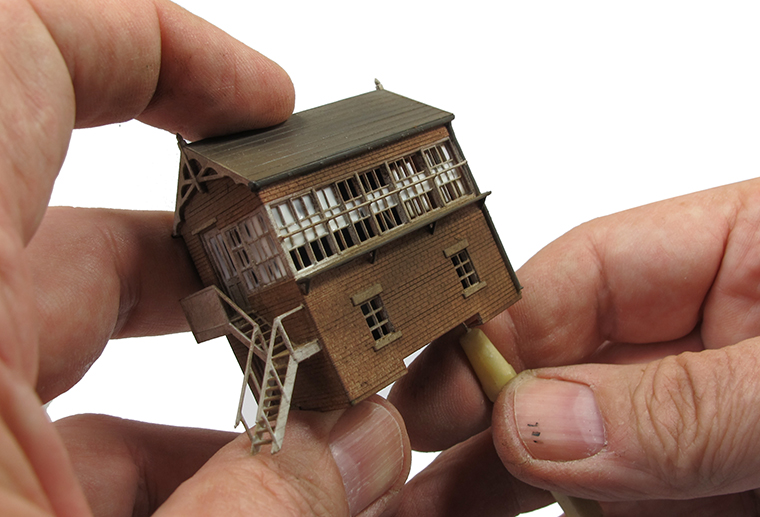 Glazing is fiddly, but using a small metal probe, Deluxe Materials Glue 'n' Glaze is wiped over the backs of the windows. Keep the windows horizontal while this dries to avoid the product slumping to the bottom of the frame.
Content continues after advertisements
All the finished box needs is a name on the front and it's layout-ready!
Want some further buildings to complete your scene? Our guide on how to build and detail a card kit is worth a read.
For more help and tips for adding grass to your model railway - watch our video on how to create realistic scenery using static grass here.
And what about trees? Our online guide will help you get to grips with 'planting' trees on your model railway.
Need more advice? Take a look at the BRM Techniques page for all our latest guides and advice articles.
Content continues after advertisement