05 October 2020
|
With rule in hand and eyes peeled, Andy York inspects this bogie hopper wagon to arrive in the Bachmann Branchline and Graham Farish ranges.
Evidence of Bachmann Europe's move towards shorter lead times between announcement and delivery of models is emerging. These newly-tooled HKA bogie hopper wagons, simultaneously available in OO and N scale under Bachmann Branchline and Graham Farish labels, were announced in January 2019 and are now reaching retailers.
The National Power-branded version of the wagon displays very fine lining and lettering.
The HKA hopper is a derivation of the JMA hopper wagon of the mid-nineties built for National Power's transportation of coal and limestone to Drax Power Station. The casual observer will note that there's a similarity to the HHA hopper, which was a later batch built for Freightliner. From 2002, selected JMA wagons were re-coded to HKA with subsequent conversion to outer (HKA-O) and inner (HKA-I) wagons and new bogies with most of the work being carried out by Marcroft in Stoke. From this point, the wagons were solely categorised for coal transport.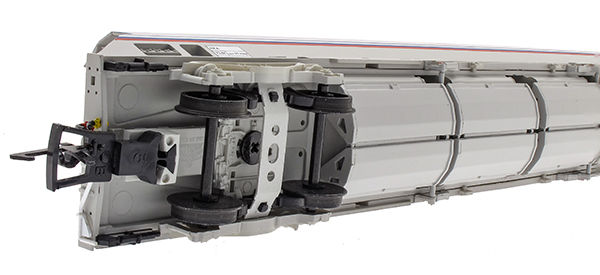 Beneath the wagon, detail continues that is rarely seen, including a braking mechanism and the hopper unloading trapdoors.
In the early 1990s, National Power was developing plans to run its own coal trains to Drax Power Station. Trials had taken place during the autumn of 1992 using Tiphook KPA bogie hopper wagons. To realise its plans, National Power ordered five locomotives along with a batch of 85 hopper wagons. The first wagons were delivered in May 1995 and they soon received the TOPS code JMA. In 1998, National Power sold its rail operations to national freight operator EWS. While much of the fleet was stored out of service, in early-2009, those JMAs that were still in service were fitted with new bogies, receiving the TOPS code HKA. As is often the case with freight stock, the wagons were not repainted and many still carried National Power branding. In more recent years, DB Schenker, faced with a shortage of hopper wagons, began a programme to refurbish several of the JMAs that were previously in storage.
The DB Schenker livery is striking and in 2mm:1ft scale, it displays incredibly small lettering, with pinpoint accuracy.
Content continues after advertisements
For both the Branchline and Farish versions of this product, each wagon can be modeled as an outer or inner wagon. An outer wagon has the rectangular buffer, drawbar hook and screw-link coupling, while the inner end of an outer wagon has a buckeye coupling and buckeye coupling lever (in white). The detailing pack also includes the appropriate air and main reservoir pipes and a cosmetic tail lamp. The fitting of these is straightforward, dependent on coupling clearances, in both scales enabling the modeller to create the appropriate formations.
Inside the wagon the load dividers are accurately captured. Looking at photographs of the real wagons, these always seem to be dented and torn by loading mechanisms and loads.
There is plenty of captivating detail on the wagons, especially below solebar level and underneath. Aside from compromises for tooling, there's little difference in the level of detail in each scale, which is a compliment to the N scale product. The later DB Schenker livery, as worn by our Farish review sample, from 2014 onwards (when a further batch were converted by Axiom Rail including an additional UIC number for Mountsorrel Quarry aggregate traffic) gives them more widespread network use.
The bogies have good definition in the pale grey.
The decoration of both wagons is typical of Bachmann's high standard, especially the National Power livery, which is available in pristine and de-branded weathered versions in both scales. There is an anomaly in pricing between the different versions, with the National Power examples being slightly higher. This has arisen from a coding issue between Bachmann and the factory, which should have related to weathered versions. The weathered effect is achieved by the use of faded paint tones rather than additional layering, and is a very pleasing interpretation.
With the multitude of Class 66 locomotives now available, there can't be a shortage of customers who fancy a rake of large hoppers to hang behind them, surely?