22 January 2020
|
We've been reporting on the serious models from London, but what about the slightly more off-beat trains on show from toy companies?
Model trains are for everyone at any age. If you have youngsters you wish to encourage to take an interest in railways, we've looked at a few toys you might like to add to their Christmas list in a few month's time. Please note that some of the products are not yet available in the shops, so you have time to save up.
Peter RabbitTM Puzzle train
There's nothing simpler than a pull-along train and this version from Orange Tree Toys includes figures from the Beatrix Potter stories. Made from wood, so kind to young hands, the carriages can be uncoupled to teach the joy of shunting at a young age.
Wooden train with tracks
Market leader Brio has spawned many imitators producing compatible systems and a wide variety of rolling stock, some more authentic than others. We're showing the version from Le Toy Van, the top of the range Royal Express Train Set. It's a massive set and includes two circuits of tracks, trains, a suspension bridge, buildings and road vehicles. Made from Rubberwood trees that have reached the end of their productive life and would otherwise be burned, the environmental credentials are good too.
Railway play table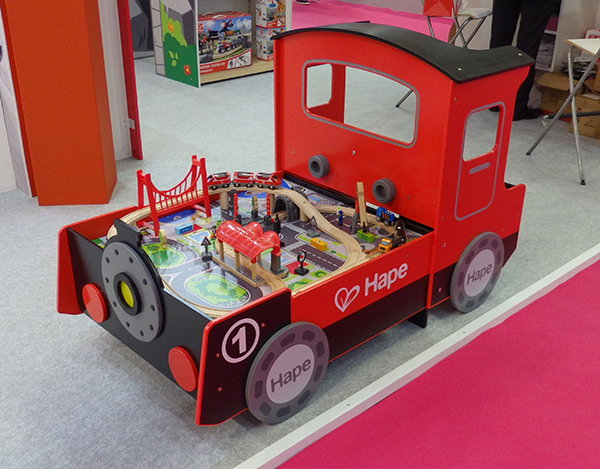 Ask any enthusiast what the first step in building a model railway is and the answer will be "Build a baseboard". Maybe the rules are the same when your tracks and trains are made from wood, so what could be better than a baseboard that looks like a steam train? This one is from Hape, who also make a Brio compatible train system.
A plastic play train
If wooden trains don't suit you, how about one made from recycled plastic milk containers? Bigjigs Blue train will fit the bill. The set includes a steam engine, carriage and open truck complete with two figures, although they seem to ride in the truck looking at the photos which isn't very realistic. Perfect for playing trains in the bath perhaps.
Playmobil
Content continues after advertisements
The biggest name on this list, the Playmobil My First Train Set contains a locomotive, two carriages, track, figures and accessories. The figures are smaller than traditional Playpeople and aimed at enthusiasts aged 18 months and older. It's nice to see a signal included so the basics of correct train control can be learned at an early age.
Plastic locomotive kit
BRM is a modelling magazine, so we mustn't just look at ready to run (play?) models. For the more dexterous, we have a MicoMic plastic locomotive kit. Brightly coloured parts push together, the wheels rotate and valve gear moves. Instructions are provided as a series of 3D illustrations, so they should be easy to follow.
Plank building
OK, this one takes a bit more imagination. Kapla produces a range of small planks that (they say) utilise a unique ratio so they can be stacked together and need no glue. It's certainly a novel system and limited only by your imagination. Build anything you like, but obviously we would build a train.
Potter time
You can't spend long looking at toys without encountering Harry Potter. We're looking at a 3D jigsaw puzzle by CubicFun, which makes up into the famous Hogwarts Castle train. Not only do you get the locomotive and a carriage, but there's also a bit of Kings Cross station in the set. Should you wish to model the whole line, Hogwarts school is also available, fortunately, at a somewhat smaller scale than the train.
Gearing up for a kit
If moving mechanical models are your thing, then here's a wooden locomotive kit from UGears. Laser-cut plywood parts are carefully assembled to create a fantastical machine that probably owes more to steampunk than prototype fidelity. We're not sure about all those cogs in the boiler for a start. From past experience, the team know that taking on the task of assembling one of these kits isn't to be rushed, but once built and working, the satisfaction is immense.
Finally, an etched metal kit
Now this, the Dezzling Streamliner from TimeForMachine, is very steampunk. It's difficult to know where to start when describing the model so perhaps we just need to say that the etched stainless steel parts are presented beautifully in a pocketed card wallet and can be assembled with nothing more than cutting snips and a small pair of pliers. At 510mm long, it's sure to make an impact simply sat on the desk, but a hidden clockwork mechanism makes the wheels revolve. With 256 pieces, this isn't going to be a quick build, but it's certainly very different to anything else you might have done.