10 December 2019
|
Last weekend, we held the National FESTIVE of Railway modelling at Peterborough - Christmas was being celebrated on even the most finescale of layouts and we bring you some of our favourites.
Content continues after advertisements
1 - Flying Santa
All you need is a cake decoration and a length of invisible thread then Father Christmas can be on his way. The lights are a nice touch too, it's what micro LEDs were invented for.
2 - Santa in the snow
If you model Switzerland, the chances are your ground cover is deep and crisp and even, so what better way to get around than by sleigh? Perfect for the Preiser HO scale model.
3 - Santa on a bus
There's not much snow in Gravesend, but that isn't going to stop the presents getting through, Santa will just have to take the bus.
4 - Santa afloat
So many gifts to fit on a single sleigh. Our exclusive picture reveals some of them travel by sea.
5 - Unloading heavy parcels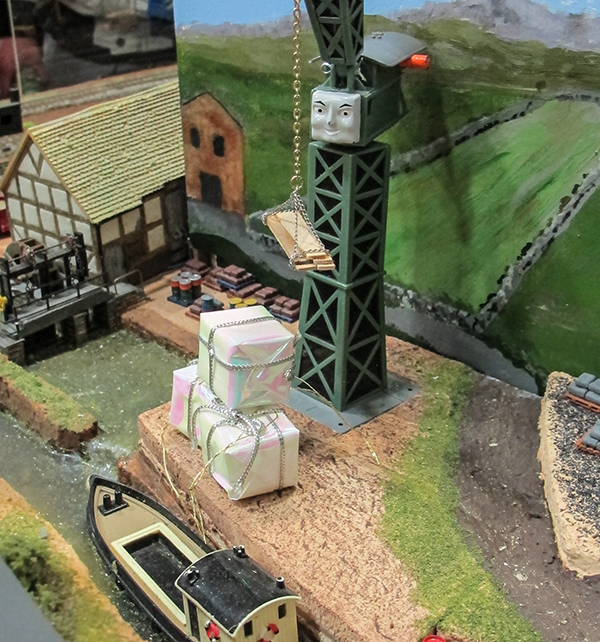 If the gifts come by sea, you'll need a crane to unload them on the quayside. The recipients of these monster parcels must have been very good this year...
6 - Gifts by rail
A festive load on its way. I wonder if these are wrapped up shipping containers full of new models?
7 - A festive train
If big boxes aren't your thing, how about some festive figures in your trucks?
8 - Don't forget the tree
I think the man on the left is wondering how the railway managed to find such a big tree, or maybe he's wondering why he's still wearing shorts in winter.
9 - There are no worries about dropped needles with a crochet tree
Inspired by the GMRC, one exhibitor has been out with the wool and made their own crochet pine.
10 - Forget the layout, let's just have the tree
If all else fails, just run the railway around the bottom of the tree like the Glyn Valley Tramway trust has done. I wonder what's in those parcels?