01 December 2020
|
The manufacturer has placed its flag of three new models for 'OO' in the soil of the British RTR market. Here's what we know so far.
Rapido Trains UK has unveiled a Hunslet 16in 0-6-0ST and BR (WR) 15XX 0-6-0PT for 'OO'. Designed with smaller layouts in mind, the locomotives can easily be run on larger layouts, too. Rapido Trains has unveiled the specification of both locomotives, which are expected to be delivered late-2021.
Rapido Trains UK said, "More and more modellers have been calling for industrial locomotives in 'OO' and Rapido Trains has answered the call with our new Hunslet 16in 0-6-0ST."
The 16in 0-6-0ST was the largest of a range of 'standard' locomotives offered by the Hunslet Engine Company of Leeds. Customers could buy similar looking locomotives with 12, 14 and 15in diameter cylinders. They were designed for industry where owners were looking for a locomotive that was economical, simple to operate, easy to maintain and durable.
This attractive saddle tank is being produced from original works drawings and field visits to a number of 16in Hunslets. The manufacturer has said it aims, using sounds recorded from an operational Hunslet 16in, to offer a factory-fitted sound model - a first for a UK 'OO' gauge steam-outline industrial locomotive.
MARTYN TATTAM
Prototype Factfile
Built: Hunslet built 44 16in 0-6-0STs between 1923 and 1958
How long did they last? Hunslet 16in 0-6-0STs were still in revenue-earning service well into the 1970s.
Where did they work? Mines, collieries and quarries throughout Yorkshire and the Midlands although one worked in a power station in Wales. Four were exported to Peru and one to Australia. This locomotive, Public Works Department No. 79 (No. 1825/1938) is now on display at the New South Wales Rail Museum in Thirlmere.

Can I see one? There are at least nine Hunslet 16in 0-6-0STs left in Britain.
Model Specification
Die-cast metal construction
Next18 decoder socket
DCC Sound options
NEM coupler pockets
Sprung buffers
Which liveries is it making?
(903001) No. 3716/1952, Alex, Oxfordshire Ironstone lined red.
(903002) No. 3782/1953, Arthur, Markham Main Colliery lined green
(903003) No. 2705/1945, Beatrice, NCB lined red
(903004) No. 3783/1953, Holly Bank No. 3, NCB lined blue
(903005) No. 1953/1939, Jacks Green, Naylor Benzon & Co lined green
(903006) No. 3715/1952, Primrose No. 2, NCB lined black
(903007) No. 3714/1951 Thorne No. 1, plain green
Price? TBC
What stage is it at? First computer design images are being assessed for accuracy before further design work takes place.
When's it due? Late 2021
Hawksworth '15XX' pannier tank
KENNY FELSTEAD
In other news, its Hawksworth '15XX' pannier tank should fill a gap in the ranks of 'OO' gauge GWR models. Although designed during the days of the Great Western Railway, the '15XXs' were built by British Railways and a major departure from the GWR's tried and tested pannier tank formula.
The '15XX' featured a very short wheelbase for negotiating tight curves and, with outside cylinders and Walschaerts valve gear. The bottom end design was said to have been inspired by the USATC 'S100' 0-6-0T (Southern Railway 'USA'). Above the non-existent running plates, the locomotives resembled Hawksworth's '94XX' 0-6-0PT, which shared the same design of boiler.
Content continues after advertisements
Prototype Factfile
Built: Ten built in 1949 at Swindon Works to a design by FW Hawksworth
How long did they last? The first was withdrawn in 1959 and the last had gone by the end of 1963. Three were used by the National Coal Board until 1969.
Where did they work? The majority were based at Old Oak Common shed for moving coaches to and from Paddington station. However, other examples could be found as far afield as South Wales. Although designed for shunting they did, very occasionally, work short-haul passenger and goods trains.
Can I see one? No. 1501 was bought from NCB by the embryonic Severn Valley Railway. It returned to steam in 1997 and has proven to be a popular and powerful member of the fleet, so much so that's earned the nickname 'Raging Bull'.
Model specification
Die-cast metal construction
High quality motor and mechanism
Next18 decoder socket
DCC Sound options
High level of detail
NEM coupler pockets
Sprung buffers
Which liveries is it making?
(904001) No. 1506, BR unlined black, no emblem
(904002) No. 1500, BR unlined black, early emblem
(904003) No. 1505, BR lined black, early emblem
(904004) No. 1504, BR unlined black, late emblem
(904005) No. 1501, BR lined black early emblem (as preserved)
(904006) No. 1509, NCB maroon
Price? TBC
What stage is it at? The project is in the early stages. Design work has started using works drawings and a wealth of historical and preservation era photographs.
When's it due? 2022
Finally, Rapido Trains is also fulfil its promise to produce a gunpowder van in 'OO' to 21st Century standards. This project was originally unveiled in 2017 and a 3D test print was produced, but the project was halted. It now intends to deliver tyhe model by late-2021.
The movement of gunpowder by rail to military establishments, mines and quarries was once commonplace and the railway companies built special vehicles to safely carry this commodity. The Railway Clearing House produced a standardised design circa 1930 and it was adopted by the GWR, LNER, LMS and Royal Ordnance Factories with minor detail differences.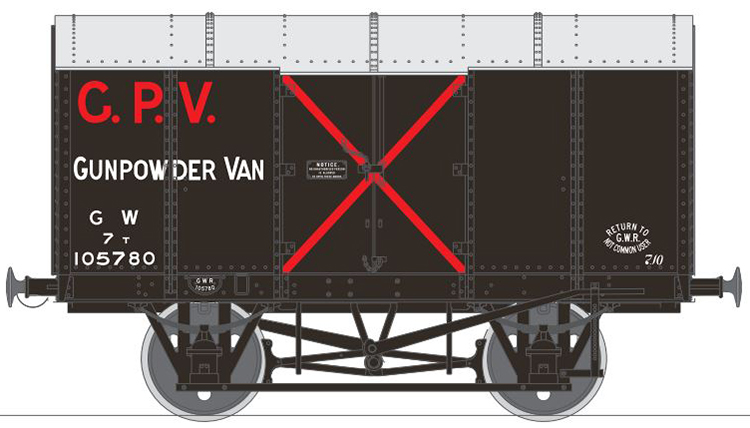 Gunpowder vans featured all metal low-height bodies. Internally they were wood lined and a cast plate on the external doors instructed staff that no unauthorised persons may open the doors. Over-boots – made without nails – were also provided to ensure that no sparks were created.
BR built a slightly modified version of the RCH design under Diagram 1/260. During peacetime up to five vehicles could marshalled in trains whilst during wartime this restriction was relaced and entire trains of GPVs could be seen.
Rapido Trains UK's model will depict the RCH design, GWR Diagram Z4 and BR Dia. 1/260, with key variations including different 'W' irons, doors, bufferbeams and brake gear.
For further information on these models, including pricing and availability updates, visit its website.