16 October 2020
|
Arriving with the retailer and produced by DCC Concepts, a line-up of three decoders exclusive to the retailer in common plug formats is available to purchase.
Rails of Sheffield has taken delivery of its exclusive range of DCC decoders. Manufactured for the retailer by DCC Concepts to its specification and branded in Rails of Sheffield packaging, three variants are available to purchase from its website or in store.
The range boasts self-adjusting back-EMF for consistent performance and support for coreless motors with a single CV change. Brown-out protection for smooth motor operation (like having a built-in stay-alive) is provided as standard. Customer service and technical support is UK-based.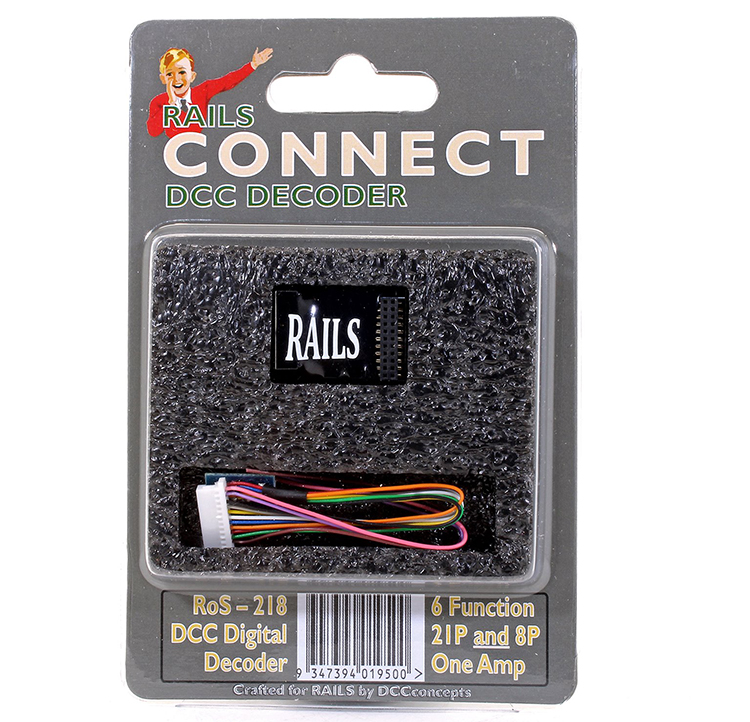 Designed with OO gauge modellers in mind, its 21-pin direct six function decoder (RoS-218) is supplied with an eight-pin harness and features:
21-pin direct, 8-pin harness
1.1 A peak power (750mA continuous)
6 functions at 100mA each
22mm x 16mm
Advanced brown-out protection
Content continues after advertisements
Its eight-pin direct four function nano decoder for smaller OO gauge models (RoS-8D) features:
8-pin direct
1.1A Peak Power (750mA Continuous)
Four functions at 100mA each
Nano Size - sits on top of decoder pins
Advanced brown-out protection
Designed with N gauge modellers in mind, its six-pin direct, two-function decoder (RoS-6D) features:
6-pin direct
1.1A peak power (750mA continuous)
Two functions at 100mA each
Nano size - ideal for N gauge
Advanced brown-out protection
In addition to the above decoders, Rails of Sheffield is to retail an eight-pin four function decoder with harness, expected to arrive in stock soon. This higher-capacity decoder (RoS-8HP) will be capable of handling 3A at peak power, four 100mA functions, with the same base specifications as those above, making it suitable for larger OO gauge locomotives and small O gauge locomotives.