30 April 2019
|
Hornby stand
Hornby took a stand at The Independent Toy and Gift show this year. Does this signal a new direction for sales?
The Independent Toy and Gift show takes place for two days in Solihull and showcases 80 brands including Lego and Playmobil. Aimed at an audience of buyers from department stores, garden centres, high street specialist toy shops and visitor attractions, the Hornby group were back after a couple of years away.
A proud boast is that 80% of the items on the stand were new items to the range introduced in the last 18 months, or extensions to existing ranges, representing the work of the new management. Viewers of the recent BBC 4 show James May's Big Trouble in Model Britain will have seen how sweeping changes at the top of the group brought in a new team with the aim to turn the company around. While the show focused on Simon Kohler and the model railway side of the business, we saw a little bit of the Airfix and Scalextric ranges which were also undergoing a revolution.
It's often said that model railways are a shrinking market. Combined with changes to the high street, and the doom-mongers have plenty to talk about when they start chatting on forums.
Talking to Pauline Hinkley and the team staffing the stand at the ITGS, and the picture isn't quite as gloomy as it might look.
While our town centres are changing, Hornby still have over 500 outlets on the books - model and toy shops - and this is growing. That number doesn't include chains of shops either, those buyers aren't at this event.
It looks like train sets are proving popular for Christmas with garden centres and smaller chain stores. The recently announced Coca-Cola set has already sold 70% of its production run with the remainder soon to sell. The team are confident that there will be retailers looking for extra stock at the end of the year.
Content continues after advertisements
Garden centres have for many years been putting on large festive displays and it seems that they are especially keen on this and the Santa Express set. Of course, these outlets won't be looking to bring in other parts of the railway range, so there will be plenty of potential customers looking to expand a Christmas present early next year - rich pickings for model shops perhaps?
Another success has been the Airfix "Quick-Build" range. Apparently, the department stores took a liking to this, Marks & Spencer doing particularly well with the VW Camper van, something they are looking to repeat soon.
I commented that the "Quick-Build" models are very accurate representations of the prototype and Pauline explained that they all had to go through a licensing process so there is no chance of putting out a generic model if you want to slap a VW or Bugatti badge on it. The design process is pure Airfix, it's just the assembly method that is different. Talking of which, the Airfix sets are apparently popular, especially those complete with paint and glue.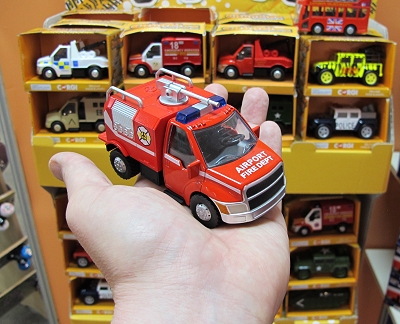 If a generic vehicle is more your thing, then Corgi Chunkies are child-proof toys that will start shipping in May. I was invited to throw the bus around the stand and can confirm that a 5ft drop onto a hard floor didn't do any damage to either the diecast body, or plastic parts.
While not scale models, these introduce shoppers to the Corgi brand, leading them on tomore scale products later. Having said that, I bet a few adult collectors will be looking to stash a few of these £6.99 models away. They will need to keep their eyes open though as some wildlife parks are interested in branded versions of the off-road cars.
Humbrol is also getting in on the act with a range of vacuum-formed plastic animal plaques called "Painta-Pet". Each pack contains a plastic 3D base and the paints to finish it. While aimed at children, they also tie in with the interest in colouring books for adults, the examples on the stand looked surprisingly effective with dry-brushed raised detail.
Over the last few years, most railway enthusiasts have worried about Hornby. Approaching their 100th birthday next year, we want to see them thrive, as much as we want to see our hobby grow. Hopefully, with this more assertive approach to finding sales outlets, combined with recent television exposure, we'll all be reaping the benefits.