05 October 2021
|
The heritage railway is hopeful that new deal will see reunification and a return of traffic to the Midland Mainline to Ruddington line.
Discussions are said to be "in very advanced terms" of a deal between the East Midlands Railway Trust, Nottingham Heritage Railway and Great Central Railway plc, aimed at facilitating a return of traffic to the line between the Midland Mainline and Ruddington.
The GCR has said "it is likely that an arrangement will be reached whereby GCR plc will assist in the management of repairs to structures and infrastructure requiring major work, encouraging the return of freight traffic to the line at the earliest possible date and, subsequent to that, other services."
A major multi-million pound project is underway to reunify the line with the southern section of the former Great Central Mainline which runs from Loughborough to Leicester.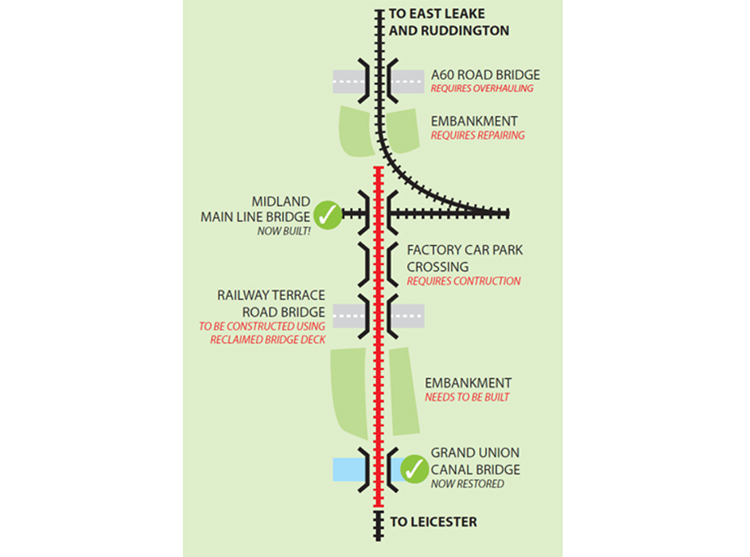 Commenting on the discussions, Michael Gough, GCR plc's Managing Director said, "we have a major aspiration to be able to run trains one day from Leicester all the way through to Ruddington and, thus, we have a vested interest in trying as hard as we can to keep the northern section viable until we get there. We will, therefore, provide as much assistance as possible, particularly in the management of major repairs required to a number of the bridges, assisting with the mirroring of GCR plc's safety management systems and rule book."
Nottingham Heritage Railway's Chairman Mike Newton said, "Mike Gough, Clive Baines and I have been working very hard behind the scenes for several weeks to get a deal together. We have developed great working relationships, and strong personal friendships, that will lead to an exciting future of co-operation between all parties. I would like to thank all our volunteers for their patience as we move to a new beginning for the NHR, and we look forward to the opportunities ahead."
Content continues after advertisements
The Great Central was the last Victorian Main Line railway to reach London. Opened to passengers in 1899 it boasted of rapid travel in luxury. Crack express trains with restaurant cars ran between Sheffield and London Marylebone over impressive viaducts, calling at large stations. However in the 1960s it was closed, the single biggest casualty of the Beeching railway cuts. In the East Midlands two sections remained.
Eight miles of the line between Loughborough and Leicester North has become a thriving heritage line, complete with double track and signalling. It's home to large steam and diesel locomotives. Meanwhile, between Loughborough and Ruddington (on the southern outskirts of Nottingham) almost ten miles of line survived to serve an MOD depot. This was closed and became a heritage centre with the line back towards Loughborough also reopened for heritage trains.
Unfortunately, the 500 metres of railway which connected the two was ripped up after closure. The plan is rebuilding bridges, embankments and relaying track at a cost of millions of pounds. When complete, it is hoped the new railway will become a thrilling heritage attraction with the power to bring in visitors from around the world. With a link to the national network of Britain it will be able to welcome charter trains of tourists to the area and become a home for the locomotives pulling those trains.
For further information on the heritage line's expansion, visit the Great Central Railway website.
Are you subscribed to World-of-Railways Plus? Don't miss great magazine archive content from Traction, Garden Rail, Engineering in Miniature and BRM magazines, plus bonus videos, trackplans, member-only competitions and RMweb Plus. Sign up here today.