21 May 2020
|
Its first production run under the Ellis Clark Trains name will see detailed ready-to-run models of the 22T 'Presflo' wagon in a variety of guises and liveries.
Skipton-based O gauge specialist model shop, Ellis Clark Trains, has unveiled plans to produce its first ready-to-run wagon, using its own brand name. Expected to arrive in the first quarter of 2021, its models represent the 'Presflo' wagon in 1:43.5 finescale O gauge.
Its specification promises finely-detailed wagons with an impressive specification, including
Fine detailing throughout
Carefully researched and designed using original drawings and dimensions, cross-referenced with pictures of original and rebuilt wagons.
Fine pipework, handles and small detailed parts in plastic and metal
Die-cast chassis
Sprung buffers
Three-link couplings
Sprung axle boxes
Will run on Peco second radius curves (1028mm)
We are producing six different liveries, with a choice of running numbers and, for each livery, an un-numbered version with a transfer sheet
The following versions have been announced:
Detailed CAD-rendered images of the wagons have been shown, demonstrating variants of its tooling for each proposed model.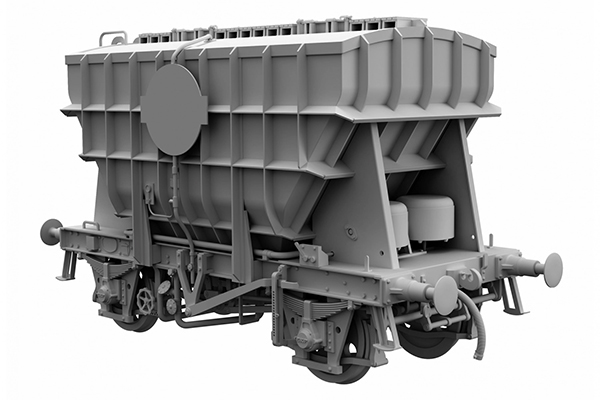 Tooling variations cover buffer, axlebox, discharge wheel and marketing board changes. For more information and pricing, visit the Ellis Clarke Trains website.