01 October 2018
|
EM2 locomotive
Woodhead is an N gauge layout based on the station of the same name on the now closed Manchester, Sheffield and Wath (MSW) route through the Peak District.
Scale/Gauge: 2mm:1ft/N
Era: 1960s
Location: Peak District
Owner (club/indivudual): Gary Atkinson
Dimensions (any units): 15ft x 3ft
Control: 12V DC
Signals: colour light
Run (continuous/end to end): end to end
Electrics (overhead / third rail): overhead
Terminus or Through Station: through
See more: BRM Annual 2008
A split-headcode English Electric Type 3 emerges from the tunnel, whilst an EM1 makes steady progress with its unloaded 16T empties. BR green is seen on both here, though Gary has chosen the transition era into BR blue for variety.
Take Two
Woodhead is Gary Atkinson's second N gauge model of the Woodhead station and the western approach to Woodhead tunnel. The first layout featured in the BRM Annual 2008. The location of the station is approximately halfway between Sheffield and Manchester on the former Great Central intercity main line. It was electrified in 1954 with overhead wires at 1500V DC. The layout is set during the period 1954 to the lines closure in 1981. Regular passenger services finished in early 1970. Both freight and passenger trains were hauled by EM1 (class 76) and EM2 (class 77) electric locomotives. Manchester suburban services were handled by class 506 EMUs.
The flow of coal was a major generator for traffic across the Woodhead route. Caught hauling a rake of 'windcutters' is an unidentified Class 76 in BR lined green. Buffers, airhorns and dummy couplings were supplied by BH Enterprises and the pantographs are Sommerfeldt, supplied by DC Kits.
Electrifying Start
Gary's first Woodhead layout was exhibited at 20 shows between 2004 and 2008. It was 8ft x 3ft and had eight trains. As his collection of Class 76s and 77s increased he decided to rebuild and extend the layout to accommodate 12 trains. The new layout at 15ft gives the opportunity to run scale length trains in a more realistic setting. His main interest in layout building is creating the scenery and buildings. Baseboards, track and electrics he doesn't find as enjoyable, so with this in mind he decided to have the two main baseboards built. He had them professionally constructed by The Goods Yard who are based at the old Wagon and Carriage works at Tuxford, North Notts. They are made from MDF with plywood struts to a depth of 6in which allowed him to cut into them to form the river bed that passes under the Sheffield platform. Cork floor tiles were glued to the MDF, to which the track was pinned.
The locomotives are built from resin body kits, formally made by Cenpro. These were made in the late-1990s and are about 10mm too long. Gary decided this was unacceptable, so each body was cut up and small sections removed before gluing back together to the correct length.
The Right Track
Track on the scenic section is Peco code 55 finescale. For the ballast he used a mixture of shades of scatter material by Peco. This was mixed with wallpaper paste and wood glue and applied to the track with a knife and screwdriver. The ballast was laid level to the top of the sleepers to disguise their height. When dry the excess can be scraped away with a screwdriver and an old toothbrush. The newly ballasted track was then sprayed with a thin coat of matt black from an airbrush. Thicker application in some places gave a tonal effect. Finally the sides of the rails were painted with Humbrol Track Colour. Track work in the storage roads is Code 80 and there are six roads in each direction which are fully automated. A magnet under each train operates a reed switch between the rails, this in turn operates a relay which operates the point motors. As one train enters the storage roads another leaves, giving a steady stream of train movements along the layout. Gary uses Gaugemaster hand-held controllers.
Content continues after advertisements
Diesel traction makes an occasional appearance. Still clinging to its livery of BR green is English Electric Type 4 D382, with full yellow warning panels, hauling a passenger train.
Making a Scene
The scenery along the Longdendale Valley where this line ran completely dominates the railway. Gary has attempted to replicate this on his layout, hopefully creating the atmosphere of a railway running through a landscape. The hillsides are made from expanded polystyrene insulation blocks. These are cut to shape with a hot wire and layered on the baseboards for the contours of the valley side. The polystyrene is secured with PVA wood glue. With the contours done to his satisfaction and the PVA glue set, the white polystyrene was painted with matt black paint. He then covered the area with Woodland Scenics foliage scatter, mixed with wallpaper paste and wood glue and spread onto the hillside with a knife. Before the mixture dried he applied Woodland Scenics foliage net to replicate the bushes. This was teased out and pushed into the wet grass mixture. The river bed was made from card, painted with acrylics and gloss varnish. The rocks in the river were broken up pieces of concrete from his driveway. The rock face was made from plaster of paris type material poured into a Woodland Scenics rubber mould. Several castings were made and cut into layers with a band saw. The pieces were glued into place and sealed with PVA sealer. Several coats of acrylic paint were applied until he found a shade he was happy with. A thin coat of matt black was applied as a final colour.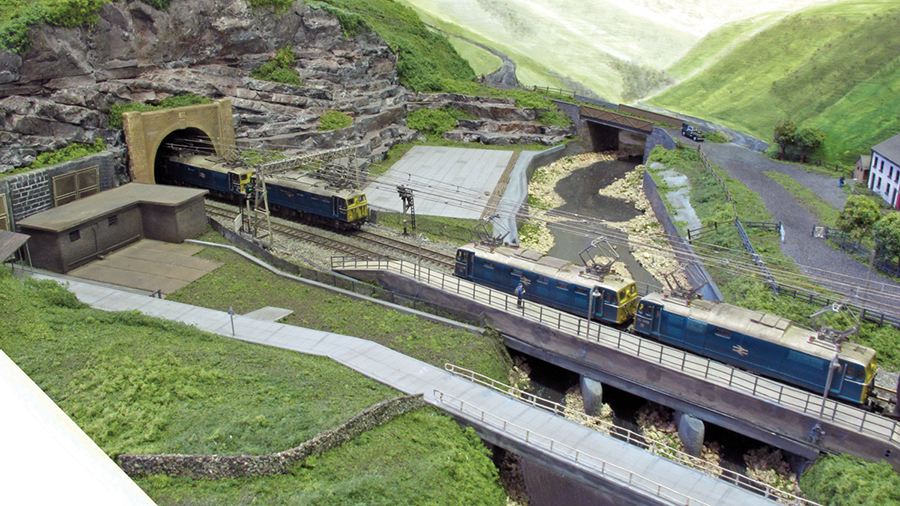 The Class 76s run on slightly modified Minitrix Class 27 chassis. Gary has a fleet of ten Class 76s and two Class 77s. The latter were built by lengthening a Class 76 body with extra panels. Two Class 77s can be produced from three Class 76 bodies and are run on Lifelike Alco P8 chassis.
Reuse, Recycle
Before he disposed of the original Woodhead layout he carefully removed the station building, signal box platforms and tunnel mouths and reused them on the present layout. They are made from plastic sheet and Peco stone walling sheets. The double track tunnel mouth is a modified SD Mouldings product. The other tunnel mouths are made from card covered with polyfilla and the stonework carved into this. He had to construct two new buildings that didn't feature on the old layout. The new stationmaster's house was built with plastic sheet and covered in brick paper. The row of four cottages on the station approach were made from two Kestrel semi-detached house kits joined together. A new roof and chimney stacks were made from Ratio products. The catenary was built from Brass 'I' and 'L' section. The support structures were scratch-built using photographs of the originals as reference from the many Woodhead-related books that are available. The wires are also brass, made from 0.3mm wire soldered together to replicate the compound style of catenary used on the route. Together with the painting of the catenary, this represents many hours work and he insists on sturdy barriers at exhibitions to keep small hands away from it. Track cleaning is also a challenge. A hand-painted backscene completes the public viewing side of the layout.
Conclusion
If dismantling an old layout, consider saving buildings and other accessories you might find useful. These can be reused on new projects or dioramas, or even sold to generate funds for new kits and models. You never know when these might be a saviour on your new layout, as Gary Atkinson found.
Has this model railway inspired you to get modelling? If the answer is 'yes' check out our 'How to…' section for the very best, step-by-step modelling advice. Click here.