06 August 2020
|
Clive Baker turned to his interests in the former industrial railways of North Staffordshire in creating this entertaining model for the exhibition circuit.
During my school days I became fascinated by the mining and transit of gypsum rock/alabaster in the valley of the River Dove, close to my home. In reality, the large pieces of rock were carried from the mine operated by J. C. Staton and Co. at Fauld, situated close to the village of Coton in the Clay, by the 3ft gauge Scropton tramway across the River Dove to Scropton; a main line station once on the North Staffordshire Railway (NSR), later LMS, line that still links Derby with Uttoxeter. Transferred to standard gauge wagons, the rock continued its journey to Tutbury South Yard before finally being hauled back across the river into Staton's 18th century mill for crushing into cement or plaster (see BRM July 2019).
How could one condense these activities into a model layout to be assembled on a baseboard, donated by a friend and measuring 1.2m x 0.5m? Some geographical manipulation would be required together with licence in gauge…
Traffic on the narrow gauge tramway enters from the rear right, at an elevated level, bearing freshly cut stone. After running round its train, the locomotive hauls the wagons down the 'Z' incline to the lower level, where the standard gauge train has arrived from Scropton, in readiness for the onward journey to the crushing plant, which is imagined to be somewhere offstage.
The standard gauge branch train enters front right passing under a road bridge, the run-round loop returning the locomotive to the storage siding by way of the bridge. Both narrow gauge and standard gauge wagons are shunted into a transit shed situated front left where the pieces of gypsum are actually transferred from tramway to standard gauge backstage away from public viewing.
To add interest, the Uttoxeter Canal once linked that town with the Caldon Canal at Froghall until 1845, when it was filled-in to make way for the Churnet Valley railway line. It was re-instated for the benefit of the model and extended to a wharf in the foreground alongside the Coton rail interchange.
By incorporating a switchback, a narrow gauge run of about 3m has been achieved. The standard gauge can only boast a run no longer than the baseboard; having just one set of points forming one end of a run-round loop; further point-work must be imagined.
I tend to use theatre terminology because on one occasion, while the layout was assembled at home for the purpose of pre-show testing, a friend whose occupation is treading the boards, requested a private viewing; immediately likening 'Coton' to a stage set – he considered the cast to be trains rather than actors. I couldn't help but agree as the frontispiece that bears the layout's name and images of prototypes that have inspired 'Coton', as well as the lighting on the remote side, tends to resemble a theatre proscenium arch.
Buildings
When constructing buildings for previous projects, I had usually employed styrene sheet throughout, but in an attempt to reduce costs by utilising existing supplies, I selected card to provide a basic shell before applying various embossed styrene sheets, brick, stone etc, as a top dressing. I have found that various art boards give a very rigid basis and alleviate warping.
The building with bell tower and clock, through which the narrow gauge trains pass has been inspired by that at Staton's plaster mill. In reality, a single standard gauge track passed through its archway rather than two narrow gauge lines. The adjoining cottage is freelance, but the carpenter's shop has been inspired by similar structures once found at the plaster mill.
Continuing along the rear high-level track, the narrow gauge train passes a boiler house with adjacent water tank and associated pipework. Not related to the plaster mill, this structure, once found at Worthington's brewery at Burton upon Trent, presented itself as an attractive subject, its open arches allowing a boiler to be modelled within. During operational sessions, the boiler receives its fuel in the shape of coal delivered by the tramway, having been transferred from the standard gauge branch.
The next structure adjacent to the tramway is assumed to be a control office; having the appearance of a Midland Railway signal cabin, minus its lower floor.
The transfer buildings at the left-hand end of the layout take the form of the salt warehouses that once graced Horninglow Basin on the Trent and Mersey Canal at Burton upon Trent. Spanning the canal, salt could be loaded directly into these buildings from a narrow boat, protected from the elements. The two tall buildings are open to the operator to facilitate the off-stage transfer of gypsum and coal.
Smaller buildings include a platform shelter; constructed to NSR pattern; it is open on both sides to suit its island platform situation. Locomotive water facilities are individual for each system: The narrow gauge water tank has no particular prototype, being a simple structure produced from styrene and supported by scrap ends of standard gauge rail and tubing, whereas the standard gauge locomotives replenish their tanks from the product of a kit from Mike's Models. The shed opposite the narrow gauge water tank began life as a farm dog kennel from Britains.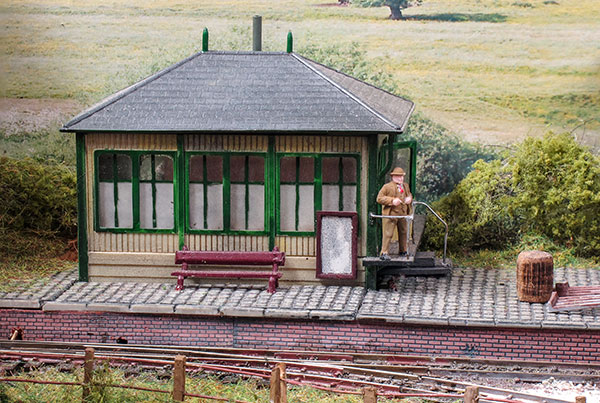 Standard gauge trains enter front-right through a bridge inspired by the structure adjacent to Alton Towers Station, once served by the NSR Churnet Valley line and frequented by many day trippers visiting the well-known theme park. Some licence has permitted the addition of a second archway to accommodate the narrow gauge line. Although a dead-end, it reminds me of a similar situation at Machynlleth, where the 2ft 3in gauge Corris Railway line passed through a dedicated arch; part of the bridge that carried the main Cambrian line over the main road.
Content continues after advertisements
Narrow gauge rolling stock
During the late-1960s, soon after the birth of N gauge, the pattern for 4mm narrow gauge modelling in many cases changed by ceasing to utilise 12mm gauge track (TT) in favour of the emerging 9mm track (N gauge).
Prompted by this new concept known as OO9, I invested in items suitable for the purpose of creating a 2ft gauge tramway.
This diversion proved to be short-lived as I reverted to standard gauge and ultimately EM gauge standards, so the OO9 models and track lay dormant until the building of 'Coton-on-Dove' commenced.
The 009 rolling stock available during those early years, mainly imported, followed a continental- or US-outline with a scale of 3.5mm:1ft. One such overseas supplier, Minitrains, produced my first narrow gauge locomotive, an 0-4-0 saddle tank that resembled a USA Baldwin; re-bodied including a boiler fashioned from the centre plastic spool of a 35mm film cassette and various other 'bits and bobs'. The result failed to represent any prototype.
When brought out of slumber, the ex-Baldwin proved to be in a rather sorry state and, apart from its unfavourable wheel arrangement, was going to be an unlikely candidate for working my version of the Scropton tramway.
At the time of 'Coton's' construction, OO9 seemed to have taken a back seat, there being a dearth of suitable products. Ten or so years later the opposite situation applies.
Help came from Dapol in the shape of an N gauge, GWR 14XX, 0-4-2 chassis having electrical pick-up on all six wheels and at a very reasonable price; with a body fashioned from mainly styrene sheet to resemble a Hughes Falcon class locomotive, based on a drawing of Corris/Talyllyn No. 3, this model has proved to be a most reliable motive power unit.
Originally I intended 'Coton' to make no more than two exhibition appearances, but eventually I decided that the Falcon required some back-up. Having sourced a previously-owned N gauge Grafar Class 08 diesel shunter at a swap-meet, I fashioned a body based on the first diesel locomotive to shunt the Bass brewery system at Burton upon Trent; a rather unusual looking locomotive built in 1939, No. 5's cab retains the appearance of that of a steam locomotive.
Although this engine has six-wheel pick-up, it fails to match the performance of the Falcon, but does cope very well when ascending the incline with loaded wagons.
Later research into the Scropton Tramway indicated that the motive power on the line included two 0-4-0T locomotives, built by Bagnall of Stafford. The temptation proved too strong – a body had to be fashioned to fit around the ex-Baldwin chassis. Having undergone a thorough clean and fitting of new gears, I am still persevering to achieve reliable operation, its 0-4-0 wheel arrangement should no longer be an issue now that the system has been upgraded with live frog point-work.
Wagons are all Minitrains products from the 1960s; apart from weathering, the only modification is the construction of a brake van body that is mounted onto a flat wagon.
In addition to handling gypsum and coal, the miners are transported daily to and from their work in a bogie saloon of very primitive vintage. Originally I intended to use a Ffestiniog carriage built from a "Mike's Models" kit, but finding the body too long for operation on the tramway, opted to use only the running gear and built a shorter freelance body from scratch.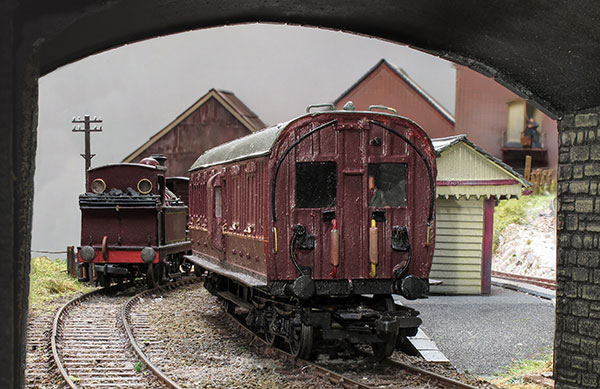 Standard gauge rolling stock
Although the date of the preceding prototype model had been originally set in the early British Railways' era, I had modelled some ex-NSR and LMS rolling stock so that the clock could be turned-back, hence broadening the scope of operations. Known as the 'heritage stock', there was little opportunity to run them at exhibitions, so with 'Coton' set in the 1930s' era, it offered an ideal showcase.
The NSR B Class 2-4-0T locomotive could be seen daily operating branch line services in the area where 'Coton' is sited. Not available ready-to-run, but at the time of construction, could be sourced in kit form, for reasons of economy, I opted to work from scratch.
The chassis was formed around the specific frames supplied by Alan Gibson, with driving wheels salvaged from a Fowler 4F. The model performs well, powered by a Mashima motor driving through a Branchlines 40:1 ratio gearbox.
The superstructure is mainly fashioned from styrene sheet, mounted on running boards formed from brass sheet of two different thicknesses, thus giving a solid and heavy basis.
Originally No. 1447 wore plain LMS black livery, which I considered correct for the period, but on over-hearing a conversation between two gentlemen while operating the locomotive at an exhibition who I felt had genuine knowledge, I reacted by re-painting the B Class tank into LMS maroon. Such was the transformation, I immediately held the model in higher regard.
During the early days of operating 'Coton', the B Class handled all standard gauge workings including the twice-daily miners' passenger train. Recently the solitary ex-NSR passenger brake constructed from etched brass sides from by Planit Engineering, and Ratio LNWR bogies, has undergone reconstruction with an elliptical roof profile and converted for push/pull operation to be more in-keeping with a particular prototype that saw service on the Burton/Tutbury local working. The B Class tanks weren't push/pull fitted, so the need for a suitable replacement locomotive arose.
While rummaging through a box of assorted items on the members' sales stand at an exhibition on the south coast, I came across a slightly damaged and partially painted brass body for a Midland Railway, Johnson 0-4-4T locomotive. Built from a kit introduced by Craftsman in the late-1970s, I became inspired to give this sad-looking item a new lease of life. The kit had been well constructed and, following minor repairs and the addition of pull and push equipment, received the identical LMS livery to that of the B class, as well as a chassis constructed along similar lines.
Final thoughts
I feel that the objectives of this project have been achieved. It is strictly for exhibition as opposed to home entertainment - an aspect that has surprised some. It has been the recipient of three awards, something that has surprised me. Some visitors raise an eyebrow when I explain that the buildings are not produced from kits but left-overs from other projects.
Recently, while showing another layout, the aforementioned Johnson 0-4-4T was in operation along with another model of the same class, constructed from the same source, but wearing BR livery. One observer commented "I bet you can't wait for the Bachmann model to be introduced". I replied "On the contrary, the pleasure and satisfaction I have received from building these two locomotives, particularly for rescuing one from a junk box, far outweighs the pleasure I may receive from owning a ready-to-run model, exquisite as I am sure it would be".
To read more about Coton-on-Dove, see the May 2020 issue of BRM. Download today from www.pocketmags.com/BRM.