06 May 2020
|
Following a two-decade hiatus, John Condon's finescale Utopia is an outstanding effort, capturing the spirit of a GWR junction station in the confines of a home loft.
Factfile
Layout name:Stoke Courtenay
Scale/gauge: 4mm: 1ft/ OO
Size: 13ft x 12ft
Era/region: 1930s GWR
Location: South Devon
Layout type: Continuous loop
Growing up in the north post-war, my railway frame of reference was purely LMS and LNER. Indeed, my first O gauge Hornby clockwork trains in the early-1950s were still blazoned with those initials, while most of my children's books of trains extolled the virtues of the pre-war streamliners. I worshipped at the shrines of Gresley and Stanier, whose creations seemed to me the epitome of speed, power and modernity. On the rare occasions I saw illustrations of GWR locomotives, I dismissed them as beneath my notice, they were quaint relics of the Victorian age.
Lineside thrills
A family holiday in Devon in 1960 changed all that forever. Soon after, occasional trainspotting trips to Crewe with pals were extended to Shrewsbury. On at least one occasion, I regret to say, we should have been at school! Here, we happily drew the GWR insignia in the film of oily soot on the sides of locomotive tenders with our fingers, while thrilling to the sight of 'Manor' replacing 'King' on the Cambrian Coast Express for its onward journey. The bug had bitten. My Tri-ang 'Princess Elizabeth' was retired, my 'Jinty' acquired a Gaiety die-cast 'Pannier' tank body to the cost of 15 shillings from Hattons as I recall – a fortune for me, then, while two Tri-ang suburban coaches crudely repainted brown and cream masqueraded as a B-set. Happy days.
Late teens saw a desultory attempt at more 'serious' modelling. I carted an embryonic branch terminus layout on two boards from one flat or bedsit to another for several years, but never got anything running. And apart from an early-1990s interlude, dabbling with Hornby and Lima diesels on a contemporary layout for my then teenage son, that was it until I retired in 2011.
Content continues after advertisements
Starting over
In that year my wife persuaded me that we needed a new roof, and that while we were at it, a proper floor in the loft for storage, with power and light. A few months later, 'Stoke Courtenay' was born.
Living in a semi-detached house with a hipped roof meant that the loft had only one vertical wall. There was therefore an inevitable trade-off between the area available for the layout and its height from the floor. I'm a great fan of viewing models at track level, and eventually compromised at a height of 43in – eye level when seated! – that allowed around 13ft x 12ft for the layout. The question then was what to build?
Clever construction
Given that access to the loft is via a ladder and through a hatch, this was never to be a portable layout. Vague memories of the estimable C. J. Freezer enthusing about the American L-girder system of baseboard support many years ago prompted further research which, following a large delivery from a local timber merchant, enabled me to construct a sturdy and stable structure integrated into the roof timbers and the new floor. The L–girders were each made from two lengths of 2in x 1in softwood, screwed and glued together at right angles. They are immensely strong and can cope with unsupported spans of 9ft, economising on timber and avoiding a forest of baseboard legs. A portion of this infrastructure was dropped to a lower level to allow the landscape to fall below the level of the railway. The surface, of 12 mm MDF supported on 2in x 1in cross bearers, was restricted to those areas where track was to sit.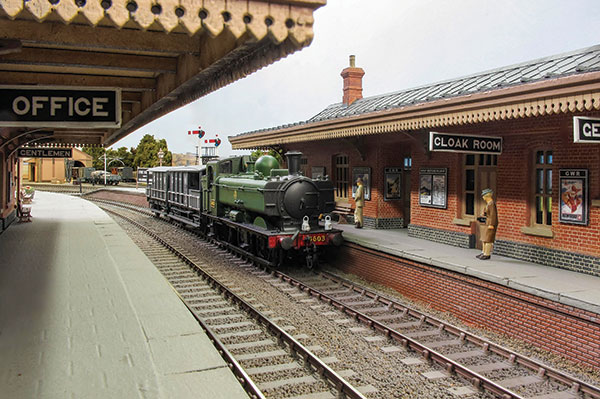 Going finescale
Plain track is from C&L. One of my 'must haves' was proper steam-age track with bullhead rail and fully-chaired pointwork. At the time this meant scratch-building the points, my first big challenge. But before starting this task, using C&L components, I did some research into track standards and came across 00-SF, in which the track gauge through pointwork is reduced to 16.2 mm, effectively EM standards, less 2mm of the gauge. The usual arguments in its favour are that it looks better and gives greater wheel support through crossings, while accepting modern wheels without alteration. All true, but the clincher for me was that it enabled me to use C&L's pre-fabricated crossing assemblies, designed for EM and 00 finescale, saving this lazy man much work.
Hands-free operation
Control is by a Prodigy wireless system. DCC was new to me, and although I haven't exploited all its possibilities, I saw immediately that it would be of immense benefit in the types of operations I had in mind. A power bus formed from 25mm self-adhesive copper tape runs below the baseboards, and every single piece of rail is connected to it by a soldered dropper wire. Points are controlled from the wireless handset via Cobalt Digital motors with inbuilt frog polarity changing. In the early days, point operation would occasionally cause locomotives elsewhere on the layout to slow or stall momentarily, but the installation of a second copper tape bus, specifically for point and signal operation, soon cured this. The signals are heavily-modified Dapol items, operated from push buttons on the layout fascia.
Scenics, buildings
Scenery is deliberately a fairly broad-brush. The landscape was formed from an egg box framework of thick cardboard, cut to profile and glued to the baseboard timbers, over which a lattice work of thinner card strips was applied with a hot glue gun. This framework then received a 'glueshell' finish from hundreds of torn-up coarse paper towels, pasted with lashings of cheap PVA. Grass in fields and meadows is from Noch grass mats, joins being disguised by hedges or paths. This is easy and effective, but a coarser texture and colour was needed for cuttings and embankments on the railway side of the fence. This was achieved with a mixture of WWS grass fibres, applied with a static grass applicator from the same firm. Trees, bushes and hedges are mainly from Woodland Scenics products.
From the outset I had a clear idea of the look I wanted for the landscape - sparse, uncluttered, almost austere - conjuring up, I hoped, some sense of wide-open spaces on a two-foot-wide baseboard. This is not the bustling Midlands, or even the fleshpots of Torbay, but the southern fringes of Dartmoor in the depressed 1930s. A key element in achieving this look was reducing the backscene height so the horizon was only about 3½ in above rail level. I also resisted the temptation to add too many buildings, people or motor vehicles and tried to keep colours fairly pale and restrained.
I didn't originally intend to have non-railway buildings on the layout, but Bachmann's three-quarter low-relief church cried out to fill a corner, and its 'Pendon' pub was irresistible. A Ratio garage kit added a workaday element, and together they give a nod to the presence of a village. The station buildings are from Timber Tracks kits – satisfyingly complex and enjoyable to put together. The key is final painting, done by the dry-brush technique - another learning curve. The footbridge is an ancient Hornby kit by Pola, butchered to reduce its height by almost 50%, while the signal box and water tower are both Bachmann commissions for Kernow Model Rail Centre. Some readers might recognise the venerable Ratio goods shed, cattle dock and yard office. Bridges and tunnels are scratch-built from various thicknesses of Plastikard and Slater's stone sheets. They are all based on examples in the various photographic albums of the 1930s GWR.
Refining operation
After experimenting with various coupling systems, some of which were beyond my skills to get working properly, I settled on small Bachmann tension locks, shortened so that the loop is in line with the buffer faces. Couplings on all vehicles involved in shunting or re-marshalling of trains have received the 'Brian Kirby' modification, in which a steel staple added to the dropper allows uncoupling over permanent magnets buried in the ballast beneath the tracks. This took some careful adjustment to vehicles, including the addition of a bit of friction, to stop them running back towards the magnets and re-coupling, but I can now shunt the yard, and attach or detach through coaches and other tail traffic remotely from my wireless handset, without physical intervention.
Locomotives and stock
At present all locomotives are Hornby or Bachmann, though I'm looking forward to acquiring a Dapol 'Mogul' when it arrives. If Bachmann was to produce a GWR 4-4-0 'Bulldog', I can honestly say that I wouldn't covet any further locomotive types. Coaches include Bachmann and Hornby Collett stock, plus an ex-Airfix 'B' set and a sprinkling of Centenaries, the latter being converted to late-1930s condition by adding 'Airstream' ventilators fabricated from cream self-adhesive labels, with added detail. Other modifications include new bogies for siphons and a new chassis for a Hornby H33 restaurant car. Kits built so far include an old K's Dean 40ft brake van, a Mailcoach K22 full brake and, most pleasing of all so far, two of Slater's superb toplight coaches. I hope they won't be the last. Wagons are also a mixture of RTR and kits and I'm slowly working my way through a stash of unbuilt Cambrian, Ratio, Cooper Craft and Parkside kits to add variety to freight trains. I particularly like the Powsides pre-printed kits for private owner wagons. They also supply transfers only, enabling one to re-livery Bachmann or Oxford Rail wagons for a fairly quick job. All stock is weathered, or at least toned down, with dry-brushing or powders. Crews, locomotive and tail lamps are from Modelu.
Testing abilities
There is always more to do, and further incremental improvements are planned. My current priority is locomotive weathering. I also have plenty of coach and wagon kits to build. By and large, I'm fairly pleased with progress over the past seven years. I can't pretend it's always been easy. I'm clumsy and impatient, and often feel that I'm working at the very limit of my skills or a little beyond, leaving trails of mangled kits and broken bits behind me to the accompaniment of much bad language. But I hope I've shown it possible for us lesser-skilled mortals to build a credible layout with a prototypical atmosphere and a 'finescale' look, by judicious use of what the trade offers, plus ambition and lots of perseverance. I've certainly learned a lot along the way!
To read more about Stoke Courtenay, see the April 2019 issue of BRM. Download today from www.pocketmags.com/BRM.