06 September 2018
|
Ashburton in N gauge
Ashburton is an N gauge model railway layout built by John Birkett-Smith representing the branch line terminus of the line from Totnes as it was in the 1930s under Great Western Railway ownership.
Gauge: N/2mm:1ft
Era: 1930s
Location: Ashburton station
Owner (club/indivudual): John Birkett-Smith
Dimensions: 2.5m x 450mm
Control: 12V DC
Run (continuous/end to end): End-to-end
Skilful painting of the backscenes offer a great sense of depth to this compact layout. The vegetation in the foreground towers high above the scene.
DESIGN
Ashburton is a 2mm:1ft scale layout with N-gauge track. It's set in the late-1920s and takes the form of a simple diorama. From the familiar Ashburton station track plan the single line crosses a small stream and enters a (mythical) steep rock cutting en route to Buckfastleigh. The cutting provides a scenic break and hides a sector plate which connects to fiddle yard roads and a run-round loop, buried under the rolling hills of south Devon. John came up with this arrangement as he didn't want a 2.5m long layout with a 600mm black box on the end. A backscene and sky gives greater visual depth, helping to achieve the aim of setting the railway in a scenic context.
For such a small layout, only two baseboards were necessary; the station board is the longest because he wanted all the turnouts to be on one board. The backscenes are fixed to the boards and, with removable end boards, give protection during transport and handling. When set up, the track level is 1.2 m above floor level, supported by a storage unit with three hinged doors, which open out to make a stable structure, U-shaped in plan. When closed for transportation, the storage unit accommodates the power supply, electrical leads, lighting gantry and tools.
Based on the stone and brick-built shed at Ashburton, John's N gauge model is a fine effort. Here a GWR 2-6-2T 'Pannier' awaits its next duty.

TRACKWORK AND CONTROL
Track is Peco code 55, laid across the baseboard join (soldered to brass screws) then cut with a slitting disc.
Turnouts are Peco Electrofrog with Seep motors.
Track feed droppers are soldered
The layout was tested before ballasting with fine sand, fixed with dilute PVA adhesive
Track was painted with dilute emulsion and Humbrol paints.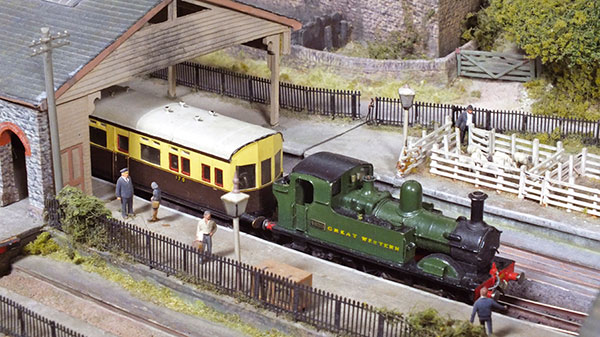 GWR 0-4-2T No. 4820 will make light work of this autocoach. Behind, a farmer prepares his next flock of sheep to market.

SCENERY
Throughout, the ground forms of the scenic areas are 10mm Sundeala insulation board, cut and glued to create a three-dimensional monocoque, shaped to finished levels then coated with filler and grassed, generally with stuck-down lint fibres. Colouring is with dilute Humbrol paints. The sections over the fiddle yard are lift-off for access and track cleaning. Trees and foliage are largely Woodland Scenics and Heki on wire armatures, with some proprietary specimen trees in the foreground. Block planting in the background is formed with teased-out air-conditioner filter fabric on wire mesh structures with foliage material fixed with spray adhesive.
The stream in the foreground is of many layers of varnish on a mixed sand bed. John finished the river banks when the varnishing was complete and dry to avoid varnish seeping into vegetation and the fine sand banks on the inside of the bends. The disused quarry near the centre of the layout and the rock cutting faces at the right hand end are of carved filler with mixed crushed stone and sand to represent scree slopes. These are finished with careful painting and weathering and vegetation on the flatter areas.
Content continues after advertisements
Road vs. rail. Two methods of transport battle for customers. The day's milk traffic is assured by GWR saddle tank 645 Class, No.1506.

BUILDINGS
Generally, buildings are based on prototypes, scratch-built and made of mounting board with the late-lamented BuilderPlus stone and brick papers. Building construction is fairly simple with mounting board marked-out, cut with a scalpel and joined with PVA. Windows are scribed acetate sheet with paint-filled glazing bars, cemented inside after applying stone or brick papers. Slated roofs are of overlapping strips of paper, ruled with a biro at 2mm centres, then cut at right angles into 3mm strips and overlapped by 1.5mm. Cills and gutters are important because they cast shadows.
A railway in a landscape. Ashburton sits nicely in its landscape and despite the verdant greens which surround it, its buildings are fairly weathered.

LOCOMOTIVES AND ROLLING STOCK
For normal operations, stock includes a GWR 517 Class 0-4-2T with a rake of four-wheeled coaches, a 14xx and auto-coach, a small 'Prairie', a 'Pannier' and a saddle-tank with passenger and goods rakes. Locomotives are either scratch-built, using the techniques made familiar by the 2mm Scale Association, or heavily-modified proprietary models. Generally, coaches and wagons are proprietary models, some fairly heavily modified, painted and weathered. John used Kadee/Microtrain couplings on the locomotives, brake vans and the ends of coach and wagon rakes, with strategically-placed permanent magnet uncouplers.
Want to see more N gauge model railways? Click here.
Content continues after advertisement